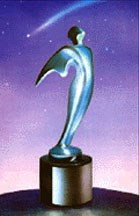 And the award goes to...
"Born of Fire…Born of the Sea" captured the prestigious Silver Telly Award in the 21st Annual Telly Awards Competition.
The Telly Awards are a national competition and the Telly has become one of the most sought-after awards in the video industry. The Silver Telly is its highest award.
"Born of Fire...Born of the Sea" ranked in the top 7% of 11,033 entries and scored a 9+ on a 10-point scale based on concept, writing, on-screen talent, lighting, cinematography, editing, sound, and music.