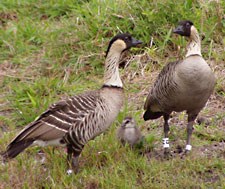 Hawai`i Volcanoes News Release
Date: January 12, 2006
Contact: Mardie Lane, Park Ranger (808) 985-6018
"'Tis the season…," the nesting season, that is, for nene, Hawai'i's state bird. From the coast of Kilauea to the slopes of Mauna Loa, thirty pairs of endangered Hawaiian geese are tending creamy white eggs and downy gray newborns.
To help protect nesting nene, Superintendent Cindy Orlando announced the closure of Hilina Pali Road at the Mauna Iki Trailhead to cars, hikers, and bicyclists until further notice. Dogs are not allowed on Hilina Pali Road or at Kulanaokuaiki Campground.
Kulanaokuaiki Campground and Mauna Iki Trailhead, located on Hilina Pali Road, remain open.
Registered backcountry hikers can still access the park's coastal trails and campsites from Mau Loa o Mauna Ulu and Pu`u Loa trailheads on Chain of Craters Road and from the Ka`u Desert trailheads on Crater Rim Drive and Highway-11.
Last year, within the park, approximately 40 nene pairs nested and some 23 goslings fledged. Despite this reproductive success, the park's nene population is still down from a high of 200 birds in 1997 to about 165 birds currently.