Rare Seabird Found Grounded Outside Volcano House
Hawai`i Volcanoes NEWS RELEASE
Date Issued: August 28, 2006
Contact: Kathleen Misajon (808) 985-6194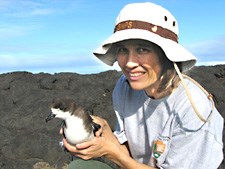 On the morning of August 24, 2006, an endangered Hawaiian petrel or 'ua'u was found sitting on the ground outside the Volcano House restaurant window. According to biologist Kathleen Misajon, "It was likely attracted to the hotel's lights and became disoriented." Fortunately, hotel staff contacted park dispatch and park biologists picked up the bird.
The 'ua'u had no obvious external injuries, however it was distressed and exhausted. Misajon kept the bird confined in a carrier in an empty office for several hours for observation. The bird was quiet and sleepy.
Later that afternoon, the 'ua'u was banded and transported to the park's coastal area. When taken out of its carrier and placed on an old lava flow facing the wind and ocean, the 'ua'u became alert and active. "After stretching its wings and flapping, it took to the air," said Misajon.
Disorientation by lighting is the most common cause of seabird groundings. "Grounded birds not rescued by humans usually die, either from injuries sustained during the crash or from predation by cats, dogs, and mongooses," said Misajon.
There here been several seabird groundings in the past six years in the Volcano area, both Hawaiian Petrels and one Wedge-tailed Shearwater ('ua'u kani), a native seabird that no longer nests in the park.
Staff will re-evaluate park lighting and make any necessary recommendations to reduce the potential for future groundings. Area residents, builders, and developers are encouraged to consider wildlife concerns when planning exterior lighting.
Petrels spend most of their lives at sea, only coming ashore to lay eggs and raise young. "This bird could have been on its way inland to feed its chick," added Misajon.
'Ua'u once nested from the coast up to high elevations but are now extremely rare on Hawai'i Island. The birds were a favored food of early Hawaiians. In more recent times, loss of nesting habitat and introduction of predators have taken a toll.
Remnant populations of 'ua'u nest in small lava tubes and cracks on the slopes of Mauna Loa above the 8000' elevation. Parents and chicks are easy prey for feral cats and cats remain the most significant threat to the continued existence of these ground nesters.
If you find a grounded seabird, call the State of Hawai'I's Department of Land and Natural Resources at (808) 974-4221 for East Hawai'i and (808) 887-6063 for West Hawai'i. If you find a grounded seabird within Hawai'i Volcanoes', call park dispatch at (808) 985-6170.


Last updated: February 28, 2015