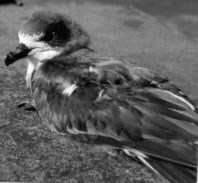 HAWAIIAN NAME:
'Ua'u
SCIENTIFIC NAME:
Pterodroma sandwichensis
POPULATION STATUS:
Endangered
DESCRIPTION:
About 16 inches (head to tail). Head, wings and tail are black. Back is slightly darker. Forehead and underparts are white. Feet are webbed, black at the toes and pinkish toward the heel. Calls can be heard at night in their nesting colony. Sounds like oo- A- oo, and makes yapping sounds like a small dog. This is the only endangered seabird in Hawai'i.
CURRENT DISTRIBUTION:
Largest known nesting colony located at the top of Mount Haleakalä, Maui at higher elevations (8,000 to 10,000 feet). Small numbers of nests have been found on the West Maui Mountains; Mauna Loa, Hawai'i, Lānai, and Kauai. 'Ua'u have been heard going into valleys on Moloka'i.
POPULATION SIZE:
Estimated 450- 650 breeding pairs on Maui . Population size on Kaua'i have been estimated, but not confirmed, to be several thousand. Population estimates for other islands have not been calculated.
FORMER STATUS AND DISTRIBUTION:
Once numerous throughout the Hawaiian Islands. In the early and mid- 1900's, observers noted high numbers of 'Ua'u occurring on all major Hawaiian Islands, except O'ahu. 'Ua'u were found at nesting at all elevations, including sea level.