Filming and Photography Guidelines and Permits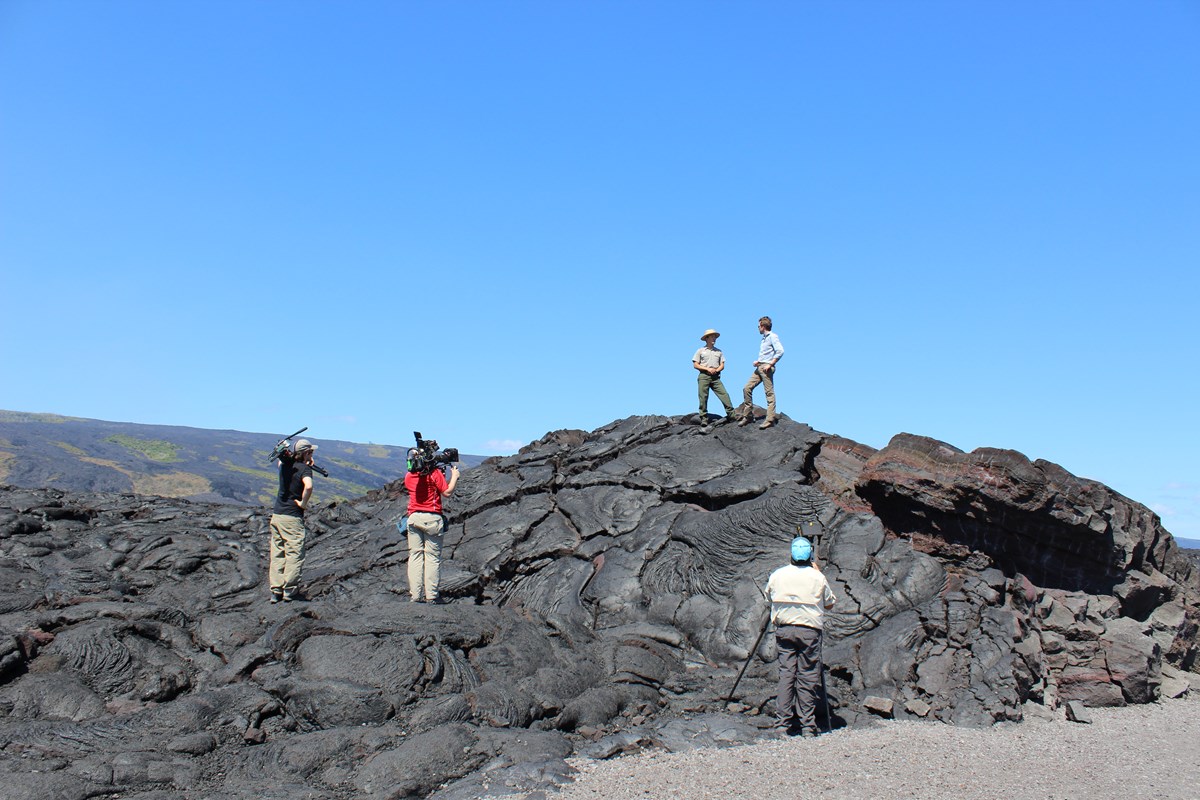 Lands of the United States were set aside by Congress, Executive Order, or otherwise acquired in order to conserve and protect areas of untold beauty and grandeur, historical importance, and uniqueness for future generations. The tradition of capturing images of these special places started with explorers who traveled with paint and canvas or primitive photo apparatus. It was the sharing of these images that led to the designation of these areas as national parks and monuments. Visitors to national parks today continue to memorialize their visits through videos and photographs.
You must allow 10 business days for the park to process your request.
Filming
Changes to Commercial Filming Permits on Park Land
On January 22, 2021, the US District Court for the District of Columbia issued a decision in Price v. Barr determining the permit and fee requirements applying to commercial filming under 54 USC 100905, 43 CFR Part 5, and 36 CFR Part 5.5 are unconstitutional. In response to the decision, the National Park Service issued interim guidance on February 22, 2021, to manage filming activities. Under the interim guidance, filming activities may require a permit if they would impact park resources or the visitor experience. The National Park Service intends to update regulations addressing filming activities that are consistent with the outcome of Price v. Barr. Once effective, those regulations will replace and supersede the interim guidance.
Those interested in commercial filming activities on land managed by the National Park Service are encouraged to contact the park directly for more information about filming in the park and to discuss how to minimize potential impacts to visitors and sensitive park resources.
Do I need a permit to film?
Under the interim guidance, the National Park Service is not distinguishing between types of filming, such as commercial, non-commercial, or news gathering. Low-impact filming activities will not require a special use permit, but non-low-impact filming activities may require a permit to address their potential impacts on park resources and visitor activities.
Low-Impact Filming
"Low-impact filming' is defined as outdoor filming activities in areas open to the public, except areas managed as wilderness, involving five people or less and equipment that will be carried at all times, except for small tripods used to hold cameras. Those participating in low-impact filming activities do not need a permit and are not required to contact the park in advance. If low-impact filmers have questions about areas where they want to film, they should contact the park directly.
Videographers, filmers, producers, directors, news and other staff associated with filming are reminded that rules and regulations that apply to all park visitors, including park hours and closed areas, still apply to filming activities even if a permit is not required. Check with the park staff for more information on closures, sensitive resources, and other safety tips.
Non-Low-Impact Filming
Filming activities that do not meet the description of low-impact filming require at least ten days advance notice to the National Park Service by contacting the park directly in writing. The park's superintendent will determine whether the filming activities will require a special use permit for filming. Based on the information provided, a permit may be required to:
maintain public health and safety;

protect environmental or scenic values;

protect natural or cultural resources;

allow for equitable allocation or use of facilities; or

avoid conflict among visitor use activities.
Examples of requests that may require a permit include, but are not limited to: entering a sensitive resource area, filming in areas that require tickets to enter, or filming in visitor centers, campgrounds, or other visitor areas. The decision to require a permit rests with the park superintendent based on potential impacts to park resources or the visitor experience.
Contact the park directly if unsure whether or not a filming activity is considered low-impact or may require a permit: (808) 985-6018 or email us.
Filming in Wilderness Areas
The National Park Service manages and protects more than 67 million acres of park lands and waters as wilderness areas. These areas have additional laws and policies to preserve their wilderness character for future generations. Filming activities in wilderness areas must follow all applicable laws and regulations that govern wilderness areas in the park, including prohibitions on structures, installations, motor vehicles, mechanical transport, motorized equipment, motorboats, or landing of aircrafts.
Except for casual filming by visitors, special use permits for filming are required for all filming activities in wilderness areas, no matter the group size or equipment used.
Are filmers still required to pay fees to film in parks?
Under the interim guidance issued on January 22, 2021, the National Park Service is not collecting application or location fees, or cost recovery for filming activities.
How do I apply for a permit?
Links to the applications are below. Use the short form for simple and short duration projects; use the other form for more complicated projects. Submit the completed application by email at least 10 business days ahead of your proposed dates in the park.

Application for Film Special Use Permit (Short Form)

Application for Film Special Use Permit
Still Photography
When is a permit needed?
Price v. Barr had no impact on how the National Park Service regulates still photography, so there are no changes in how the National Park Service regulates that activity. Still photographers require a permit only when:
the activity takes place at location(s) where or when members of the public are generally not allowed; or
the activity uses model(s), sets(s), or prop(s) that are not a part of the location's natural or cultural resources or administrative facilities; or
a park would incur additional administrative costs to monitor the activity.
How do I apply for a permit?
Contact the Hawaiʻi Volcanoes National Park film permit coordinator by phone at (808) 985-6018 or email to discuss your project. You should submit a completed application along with the application fee to the park where you want to film or photograph as far in advance of your planned date as possible, but at least 10 business days in advance. In addition, you should request a meeting with park staff if your proposed activity is unusual or complex. Early consultation with park staff will help them process the submitted application in a timely manner.
What fees will I have to pay?
The National Park Service will collect a cost recovery charge and a location fee for still photography permits. Cost recovery includes an application fee and any additional charges to cover the costs incurred by the National Park Service in processing your request and monitoring your permit. This amount will vary depending on the size and complexity of your permit. The application fee must be submitted with your application.
The National Park Service has been directed by Congress to collect a fee to provide a fair return to the United States for the use of park lands. The National Park Service uses the following still photography fee schedule:
1–10 people - $50/day
11–30 people - $150/day
Over 30 people - $250/day
Are there other permit requirements?
You may be required to obtain liability insurance naming the United States as additionally insured in an amount commensurate with the risk posed to park resources by your proposed activity. You may also be asked to post a bond to ensure the payment of all charges and fees and the restoration of the area if necessary.
What about photography workshops?
If you are planning a photography workshop, you may need a commercial use authorization. See the commercial use authorization page for more information.

A request for permit may be denied if in the opinion of the Superintendent or her designee,
There is a likelihood that resource damage or impairment of their value would occur that cannot be mitigated or restored.
There is a likelihood of unreasonable disruption of or conflict with the public's use and enjoyment of the site(s) being requested.
There is the likelihood that the activity poses health or safety risks to the public or crew.
The requested activity will violate any other Federal, State, or local laws or regulations.
Other activities are already planned or expected to occur at the same location.
It involves access to areas normally designated closed or limited to administrative use for resource or safety reasons.
The project includes portrayal of activities that aren't culturally appropriate or not permitted.

Application for Still Photography (Short Form)

Application for Still Photography
---
Our permits prohibit:
Launching, landing, or operating unmanned aircraft (including drones) from or on lands and waters administered by the National Park Service within the boundaries of Hawai'i Volcanoes National Park is prohibited except as approved in writing by the Superintendent.
Harassment or introduction of wildlife.
Altering, moving, cutting, or defacing any geological, natural, or cultural resource.
Entry into closed areas including Halema'uma'u or onto newly created land called deltas.
Digging in the ground or removal of natural features.
Entry into all lava tubes, except for Nāhuku (Thurston Lava Tube).
Nudity.
Filming of areas considered sacred to the Hawaiian people, unless filming is strictly for cultural, educational, or scientific purposes including Halema'uma'u (Kaluaopele)
Filming of scene(s) disrespectful to the Hawaiian culture including the prodding of flowing lava.
Landing of any non-official aircraft.
Smoking in buildings, on trails or in vegetated areas.
The closure of areas to the public for filming
Gunfire, explosions, pyrotechnics or special effects, or fires.
The filming of an activity in an area not normally designated for that activity.
Use of vehicles off established roads and parking areas.
Use of any foreign substance i.e. insecticides, herbicides and pesticides.
Please remember, it is the parkʻs responsibility to protect the natural, cultural, and recreational resources for which we are stewards of and responsible for. We cannot accommodate a project if it should include any of the above.
---
Aerial Filming & Photography
All aerial filming and photography must comply with applicable provisions of the Special Federal Aviation Regulation 50-2. All contracted companies must be certified by the Federal Aviation Administration.
---
Eruption Filming

The current eruption of Kīlauea is a unique and dynamic process. If you are considering filming the activity, please first consult the USGS Hawaiian Volcanoes Observatory website where you will find daily updates, maps, and images of what is currently occurring. This information can be found at https://volcano.wr.usgs.gov/hvostatus.php.
Contact Hawai`i Volcanoes National Park for access restrictions as active vents and lava flows are often in closed areas.
---
Additional Filming Contacts
All production crews should contact both the State and County of Hawai'i film offices when filming in the islands. Their websites are as follows:
These offices assist with permits for State and County lands, location scouts, cast and crew, incentives and more.
---
Questions or Assistance
If you have questions, please contact:
Film Permit Coordinator
Phone: 808-985-6018
Or email us.
Last updated: June 7, 2022