Volcano House Registers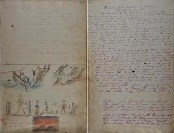 The Volcano House Registers is a collection of hotel guest registers from the historic Volcano House in Hawai'i Volcanoes National Park. The digitized registers span 57 years, from 1865-1922. The guests of the Volcano House signed the registers and included detailed illustrations, anecdotes from their visits, calling cards, poems, and comics.
Below are the first seven volumes of the registers held by Hawai'i Volcanoes National Park Archives. In cooperation with the National Park Service, staff from the University of Hawaii at Hilo Geology Department digitized the volumes, making them available for researchers and the general public. The volumes provide invaluable information regarding earthquakes, volcanic activity, genealogy, and culture of the area. The following list includes .pdfs of the registers and transcriptions of the registers provided by Darcy Bevens, Education Specialist at University of Hawaii at Hilo Center for the Study of Active Volcanoes.
The register images have a digital watermark. Clean copies of specific pages for publication can be obtained by filling out the Research Request form and subsequently the Reproduction and Use Request form found under the Conducting Research section of the Archive page.
Please note: These are rather large files. Clicking on a link will open the pdf in a new window. If you wish to save the file, right click on the link and select "save link as" or similar depending on your operating system and browser.
Registers
| | | | |
| --- | --- | --- | --- |
| Volume 1 | 1865 - 1872 | (pdf 53.3MB) | 306 pages |
| Volume 2 | 1873 - 1885 | (pdf 109MB) | 593 pages |
| Volume 3 | 1885 - 1891 | (pdf 57.3MB) | 282 pages |
| Volume 4 | 1891 - 1898 | (pdf 35.7MB) | 186 pages |
| Volume 5 | 1898 - 1908 | (pdf 87.0MB) | 441 pages |
| Volume 6 | 1908 - 1913 | (pdf 90.8MB) | 498 pages |
| Volume 7 | 1913 - 1922 | (pdf 60.7MB) | 348 pages |
Transcriptions of the Registers
| | | | |
| --- | --- | --- | --- |
| Volume 1 | 1865 - 1872 | (pdf 3.11MB) | 60 pages |
| Volume 2 | 1873 - 1885 | (pdf 5.75MB) | 124 pages |
| Volume 3 | 1885 - 1891 | (pdf 4.06MB) | 79 pages |
| Volume 4 | 1891 - 1898 | (pdf 2.79KB) | 56 pages |
| Volume 5 | 1898 - 1908 | (pdf 6.29MB) | 134 pages |
| Volume 6 | 1908 - 1913 | (pdf 5.69MB) | 131 pages |
| Volume 7 | 1913 - 1922 | (pdf 4.38MB) | 118 pages |
Last updated: April 26, 2021