Hawai'i Volcanoes National Park Offers a Variety of Educational Programs to Schools and Educational Institutions. 
Ranger-led, grade level curriculum-based programs for school groups visiting Hawaiʻi Volcanoes National Park focus on geology, forest ecology, and Hawaiian culture. These programs are designed to help teachers meet State of Hawaiʻi curriculum requirements. Our goal is to provide students with field experience as a supplement to classroom learning through ranger-guided hikes and environmental programs.
Ranger-led programs are popular and staff is limited. Plan your field trip early.
 
Notices:
COVID-19 Update: Hawai'i Volcanoes National Park remains open, but is modifying operations to implement the latest guidance from the White House, Centers for Disease Control & Prevention (CDC), and local and state authorities to promote social distancing. As of Tuesday, March 17, all special events and guided programs, including education programs, hikes, walks and talks, are canceled until further notice. 

Gross Vehicle Weight Restriction Update:
There is a gross vehicle weight restriction (GVWR) preventing vehicles over 20,000 pounds from entering the park until further notice. This includes a full-sized school bus. Many park roads remain damaged and Federal Highways has advised that we restrict weight until repairs can be made.

The park is willing to incur a small amount of risk for additional roadway damage to continue mission critical education programs, which includes K-12 accredited schools conducting curriculum based education within the park. If you are planning to use full-sized school buses for an educational visit, please include that information on your educational fee waiver request.  

*Buses over 20,000 lbs are only permitted to park at Kīlauea Visitor Center and Kīlauea Military Camp, and may only travel on Crater Rim Drive between the two. Vehicles up to 20,000 lbs are allowed on Crater Rim Drive to the Devastation Trail parking lot. Chain of Craters Road is restricted to vehicles that do not exceed 15,000 lbs.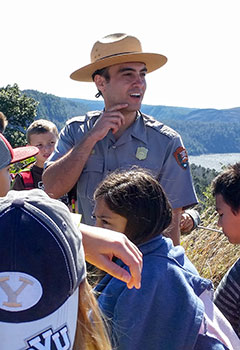 Last updated: March 17, 2020