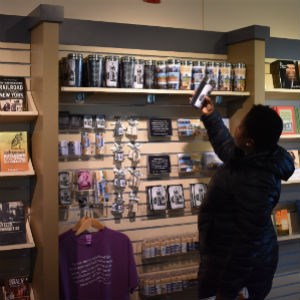 Housed within the brand new, state-of-the art visitor center, the Harriet Tubman Underground Railroad Park Store offers visitors the opportunity to continue engaging with the site even after they have returned home through a specially curated selection of high-quality educational products.
With a primary focus on publications and unique interpretive items, the park store features a selection of children's, academic, and popular press books about the life and times of Harriet Tubman and the Underground Railroad.
Product Offering:
- Books
- Pins, patches, magnets and other memorabilia
- Signature Passport To Your National Parks® cancellation station that will feature the new location commemorative stamp.
Or
shop online at eparks.com.
About Eastern National
Eastern National
is a not-for-profit cooperating association, supporting the educational, scientific, historical, and interpretive activities of the National Park Service and other public trust partners. Since our founding in 1947, Eastern National has contributed more than $135 million in direct and in-kind support to our partners. Eastern National is proud to continue its partnership with the National Park Service as the retail and educational partner of the Harriet Tubman Underground Railroad Visitor Center.