Be a Junior Ranger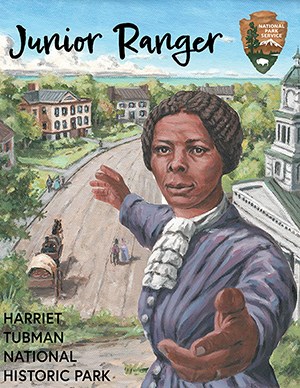 Coming Soon:
Explore, Learn, and Protect with the park's new Junior Ranger e-book!
Learn about Harriet Tubman's life in freedom. Junior Rangers of all ages can follow Harriet Tubman from her early life to her time in Auburn, NY where she worked as a farmer, doctor, abolitionist, and suffragist to secure a better life for her family and equal rights for all.
Unlike traditional Junior Ranger books that are only available at a park, this e-book can be accessed from anywhere on your personal smartphone or tablet. This book is also intended to make Harriet Tubman National Historical Park's Junior Ranger program accessible to those with audio/visual disabilities.
You'll visit several of the many historical locations in Auburn that were important to Harriet Tubman. You will meet important people from history who may introduce you to names, cultures, and other areas around the park for you to explore.
Enjoy your trip back in time, and we look forward to you joining the ranks of Junior Rangers at Harriet Tubman National Historical Park!
Downloads
Soon you will have access to the e-book on this website, but today you can download a sample to your personal device.
These activities from the book are downloadable to any device that supports the EPUB format. Due to file size, it may take several minutes to download completely. Once downloaded, you should be able to launch the EPUB file through iBooks or through your e-book reader of choice.
Last updated: June 1, 2022