Bicycling Information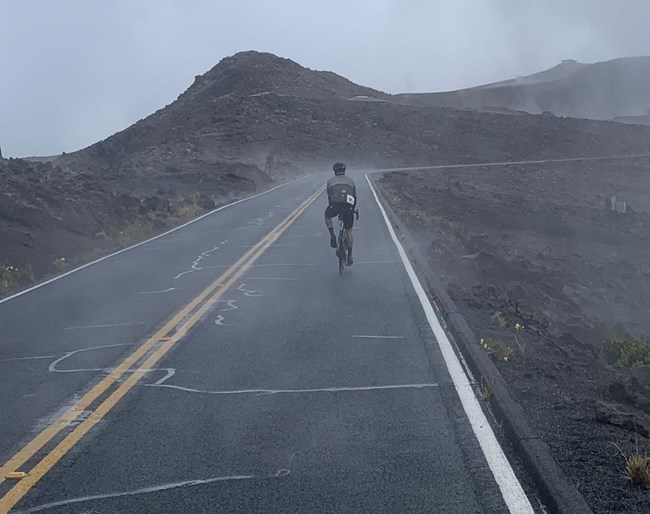 Experienced cyclists seeking a challenge will find it in Haleakalā National Park. Every day, cyclists attempt to reach the summit of the mountain, and many are rewarded with sweeping views and a thrilling ride.
What makes Haleakalā so beautiful is also what can push cyclists to their limits: the high altitude, extreme elevation gains, and unpredictable mountain weather warrant caution and proper planning before embarking on this intense journey.
Check the
weather
before heading up to the summit. The
Crater Webcam
can also provide a real-time look at summit conditions--however conditions may change quickly!
Need to Know
The entrance fee for a single cyclist is $15. Please bring a credit card for payment of the entry fee at the entrance station. Learn more about fees and passes.
There is no bike path. You will be sharing a narrow, winding mountain road with cars and buses. At points, the shoulder is narrow or non-existent.
Visitor center services may not be open or available during your ride.
Regardless of visitor center hours, water and restrooms are available 24/7 at both visitor centers (the Headquarters Visitor Center at 7,000 feet and the Haleakalā Visitor Center at 9,740 feet).
Be Prepared
Haleakalā National Park is remote. Proper planning will help make sure you have what you need for a safe and enjoyable ride. Be sure to bring:
Extra snacks
A waterproof layer
A credit card, or park pass with ID, for the entrance fee
Sun protection
Some means of communication, and a back-up plan in case you cannot complete your ride

Hypothermia
Hypothermia is common among cyclists, especially for those on the descent. Temperatures vary significantly throughout the Summit District. Rain, mist, clouds, and high winds are all common throughout the day. While you may have nice weather starting your ride at lower elevations, do not expect good conditions for the duration.

It is not unusual for cyclists to become hypothermic and be unable to continue their ride. Have an emergency contact and a plan for getting down the mountain in the event you are unable to continue your ride.

It does not need to be winter for you to become hypothermic. Hypothermia is experienced year-round at Haleakalā.

Have a plan in case you begin experiencing signs of hypothermia. Signs include
Uncontrollable shivering or shaking
Loss of coordination
Confusion
Exhaustion


Last updated: July 27, 2022