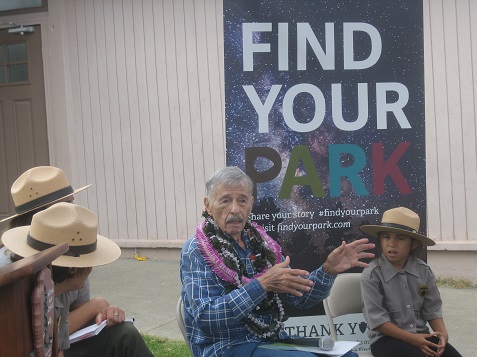 News Release Date:
April 23, 2016
Contact: Polly Angelakis, 808-572-4450
On April 23, Uncle Rex Ornellas received a Happy 100th Birthday letter sent from U. S. Congressional Representative Tulsi Gabbard. Rex was honored because he shares a 1916 birthday with Haleakalā NP and the National Park Service. Uncle Rex was also a member of the first Civilian Conservation Corp (CCC) to work at Haleakalā, in 1934.
Superintendent Natalie Gates thanked Uncle Rex for his service and read the letter from Gabbard, who was not able to attend. The letter noted, in part, that Uncle Rex's "humor, determination, and attitude of selfless service are certainly the kind that we need more of in this world." Chief of Interpretation Polly Angelakis noted that the CCC was the inspiration for numerous current-day youth conservation efforts. Throughout the day, people who had been part of youth conservation programs, such as the Student Conservation Association or the Youth Conservation Corps, came up to meet and thank Uncle Rex for his service and the CCC's conservation legacy.
Uncle Rex was also made an honorary park ranger and accepted a ranger hat from Gates. He shared stories of his time with the CCC during the Talk Story, planted keiki `āhinahina with young Junior Rangers, enjoyed a 100th birthday cake, and listened to a special recording of"We Can Plant a Forest," by the Seabury Hall 6th grade chorus. Rex, who was a mule packer with the CCC, also viewed a Seabury Hall-produced video about mule packing in the park. He ended the day with a trip to see the mules. A photo album of 'Talk Story with Uncle Rex" can be viewed on the park's Facebook page.
During the 1930's Great Depression, President Roosevelt formed the Civilian Conservation Corps (CCC) in order to employ young men. Known as "Roosevelt's Tree Army," the CCC employed almost 3 million men, planted over 3 billion trees, and conserved 800 natural areas nationwide during its nine-year history. At Haleakalā, crews planted native species, removed exotic species, and built the cabins and trails still used today.
Additional activities on Junior Ranger Day included special walks, talks, activities, and cultural demonstrations.