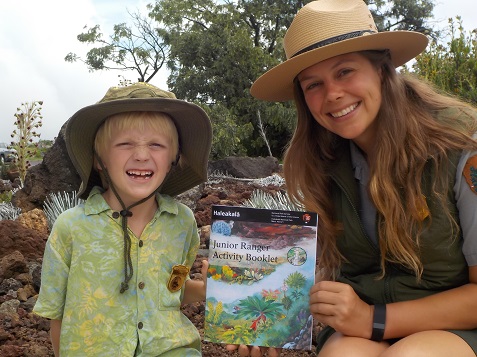 News Release Date:
August 25, 2015
Contact: Polly Angelakis, 808-572-4450
On Sunday, August 30, 2015, from 11am to 2pm, the park will unveil a new Junior Ranger Activity Book through a "Meet the Authors" event with Eliot Carter, the book's 6-year-old author and primary field tester, and his parents.
Eliot and his mom Lisa Carter rewrote the Junior Ranger book as part of a home school project. The book is the centerpiece of the park's Junior Ranger program. Park staff provided oversight and input. Local community families field tested the activities. Local home school students provided much of the artwork. The project was led by park education specialist Katelyn Thomson.
"I enjoyed doing the meetings with the rangers and getting to talk about ideas," said Eliot. "I hope the kids that come to the park enjoy the Junior Ranger program more. I hope they learn about native birds and mollusks. We got to come up with cool ideas."
Eliot Carter completed the previous Haleakalā Junior Ranger program 13 times and has earned Junior Ranger badges in 7 national parks. His mom Lisa remarked on this, "I really enjoyed watching Eliot bring his child's imagination and enthusiasm to the project. He taught us grownups a lot about what kids think is fun and what inspires kids to learn. I also enjoyed collaborating with rangers from all areas of the park."
"This project is a great example of creatively reaching out to and partnering with the local community," said superintendent Natalie Gates. "Visitors of all ages will benefit from this new program."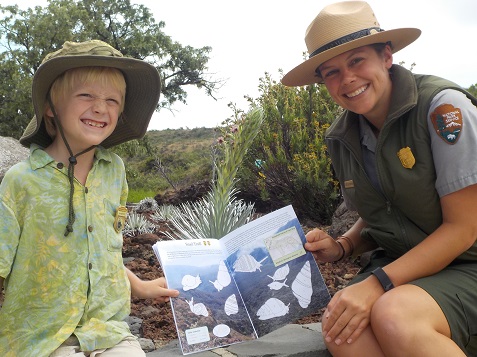 Eliot shows Ranger Katelyn his favorite activity in the book, "Snail Trail." NPS
To complete the program, visitors can request a free Junior Ranger Activity Book at any Haleakalā National Park visitor center. "Badge points" indicate how difficult an activity is. Participants earn badge points based on age and there is no age limit. The book can also be downloaded athttps://www.nps.gov/hale/learn/kidsyouth/beajuniorranger.htmfor people who wish to learn more about Haleakalā but aren't able to visit the park in person.
There are 19 activities to choose from, including: Which Moku Are You In?; Gifts from the Land and Sea; Flight of the Nēnē; Snail Trail; and Stump the Ranger. Activities can be completed in any part of the park. After completing the requirements, participants are sworn in as Junior Rangers and awarded a badge. People who complete the downloaded version can mail the completed book back to the park in order to receive a badge.
The book contains a Hawaiian language pronunciation guide and the Junior Ranger pledge is written in both Hawaiian and English. Ranger Thomson was awarded a $5000 Superintendent's Grant to revise, design, and print the book, which was last updated in 2002.
The goal of National Park Service Junior Ranger programs is to inspire the next generation of park stewards through self-guided activities that focus on the resources and importance of national parks. The origin of Junior Ranger programs dates back to 1930 when a Yosemite park naturalist started a Junior Naturalist School. Today, Junior Ranger programs exist throughout the national park system.