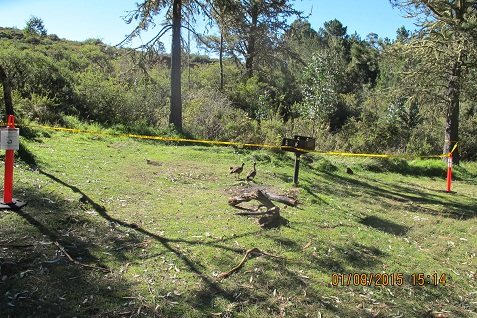 News Release Date:
January 9, 2015
Contact: Polly Angelakis, 808-572-4450
Hosmer Grove campground and trail will be closed until further notice to protect a family of nēnē that is nesting in the popular campground. The family will be moved to an area away from the campground, after which time Hosmer Grove will reopen.
"We apologize for any inconvenience to campers but we have to protect the nēnē," said Superintendent Natalie Gates. "Haleakalā National Park is about to celebrate its 100th birthday and we need to remain committed to protecting our natural resources for future generations." Resource managers did not have a timetable for how long Hosmer Grove would be closed.
Park staff sometimes move nesting nēnē families away from heavily used areas to protect the endangered birds and to avoid closing areas during nesting season. Relocation is one of numerous methods used to protect the birds. Other methods include installing traffic calming devices, giving out free "Slow Down" postcards at the Summit Entrance Station, and working with rental car companies to post multi-lingual signs about driving cautiously through nēnē habitat.
"Driving cautiously is still the most important action every park visitor can take to protect these birds," said Gates.