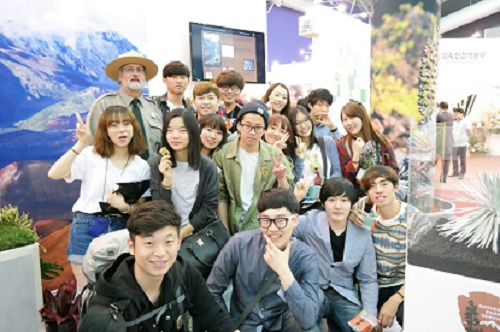 News Release Date:
May 15, 2014
From April 24 to May 11, 2014, several Haleakalā `ahinahina (silversword) were featured in a combined Haleakalā National Park - Maui County booth at the 18th Goyang Korea Flower Show. The booth won the show's Prime Minister's Award, with prize money donated to a Korean ferry victim's fund. The prize of approximately $1000 was the second largest in the show.
Haleakalā NP botanist Stephen Anderson represented the park at the show, met with the Mayor of Goyang, promoted the park's Junior Ranger program, and was interviewed numerous times by the Korean media.
"The Goyang Flower Show allowed the park to introduce this amazing species to an international audience and highlighted the important role national parks worldwide play in protecting biodiversity," said superintendent Natalie Gates.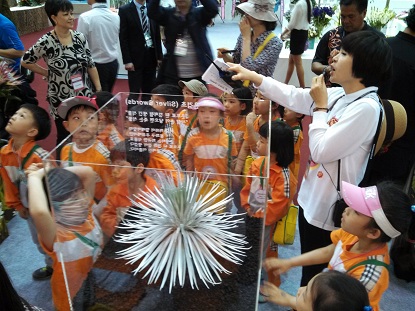 The first children to become junior rangers. NPS
"These plants were grown in our park greenhouse as part of an experiment testing the effects of climate change on native Hawaiian vegetation," said Anderson. "The plant was not collected from natural habitat. To our knowledge, since 1992 when the Haleakalā `ahinahina was listed as a federally Threatened species, this is the first time it has been sent abroad for exhibition."
After the show, specialists in Korea completed the preservation of the plant specimens which were then returned to Hawai'i for use in park environmental education programs. In Goyang, the National Park Service provided information about the Haleakalā `ahinahina, the critical habitat on which it depends, and ongoing research to protect the species. Park staff also highlighted the simple steps park visitors can take to protect the `ahinahina ("Stay on Trail!") and described ecosystem management efforts to spur its recovery.