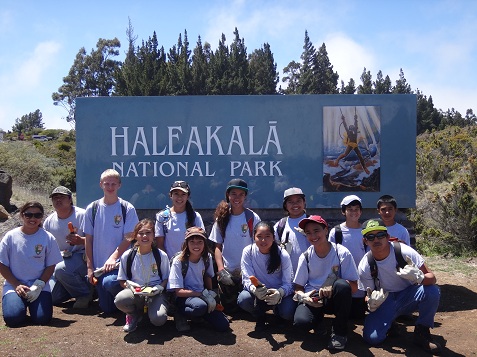 News Release Date:
December 4, 2014
Contact: Serena Kaldi, 808-572-4425
The application deadline for the Kupukupu 'Āina middle school internship program is Wednesday, January 7, 2015. Kupukupu 'Āina is the Haleakalā National Park internship program for students in grades 6, 7, and 8. It is held March 16-20, 2015, during the Department of Education's designated spring break. There is no fee to participate in the program. Interns are eligible to receive a Living Allowance of $25 per day to help offset the cost of equipment and supplies.
Kupukupu 'Āina was created in 2011 to give Hawai'i middle school students an opportunity to learn about careers in the National Park Service through hands on education in natural resources management, facilities management, and interpretation. Up to twelve students will be selected in a competitive process and participate in native plant identification, endangered wildlife identification, outdoor safety education, facilities management, Hawaiian cultural education, and guided hikes.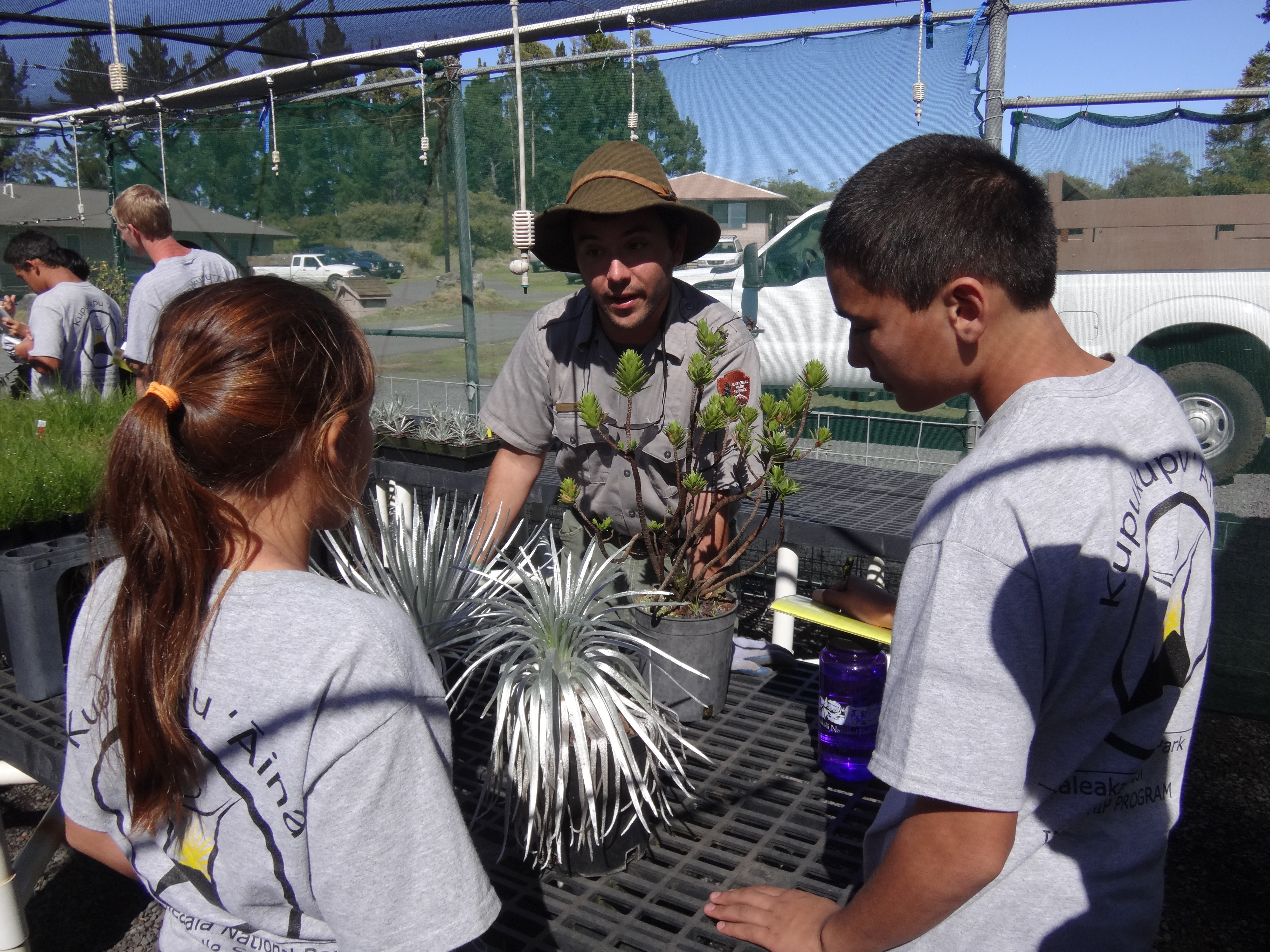 Middle school interns learn about two members of the silversword alliance, the `āhinahina and the na`ena`e. NPS
This program will provide critical stepping stones for local youth to pursue careers in the National Park and gain hands-on marketable skills. It is hoped that Kupukupu 'Āina interns will gain a deeper appreciation and environmental ethic in caring for Hawai'i's unique environment, which protects plants and animals found nowhere else in the world.
Interested students must be Hawai'i residents and available full-time between March 16- 20, 2015. Program hours are 7:30 a.m. to 4:00 p.m., not including travel time to and from the park. Free transportation to the park will be provided from designated sites. Neighbor island students are welcome to apply, but must be able to provide their own housing on Maui.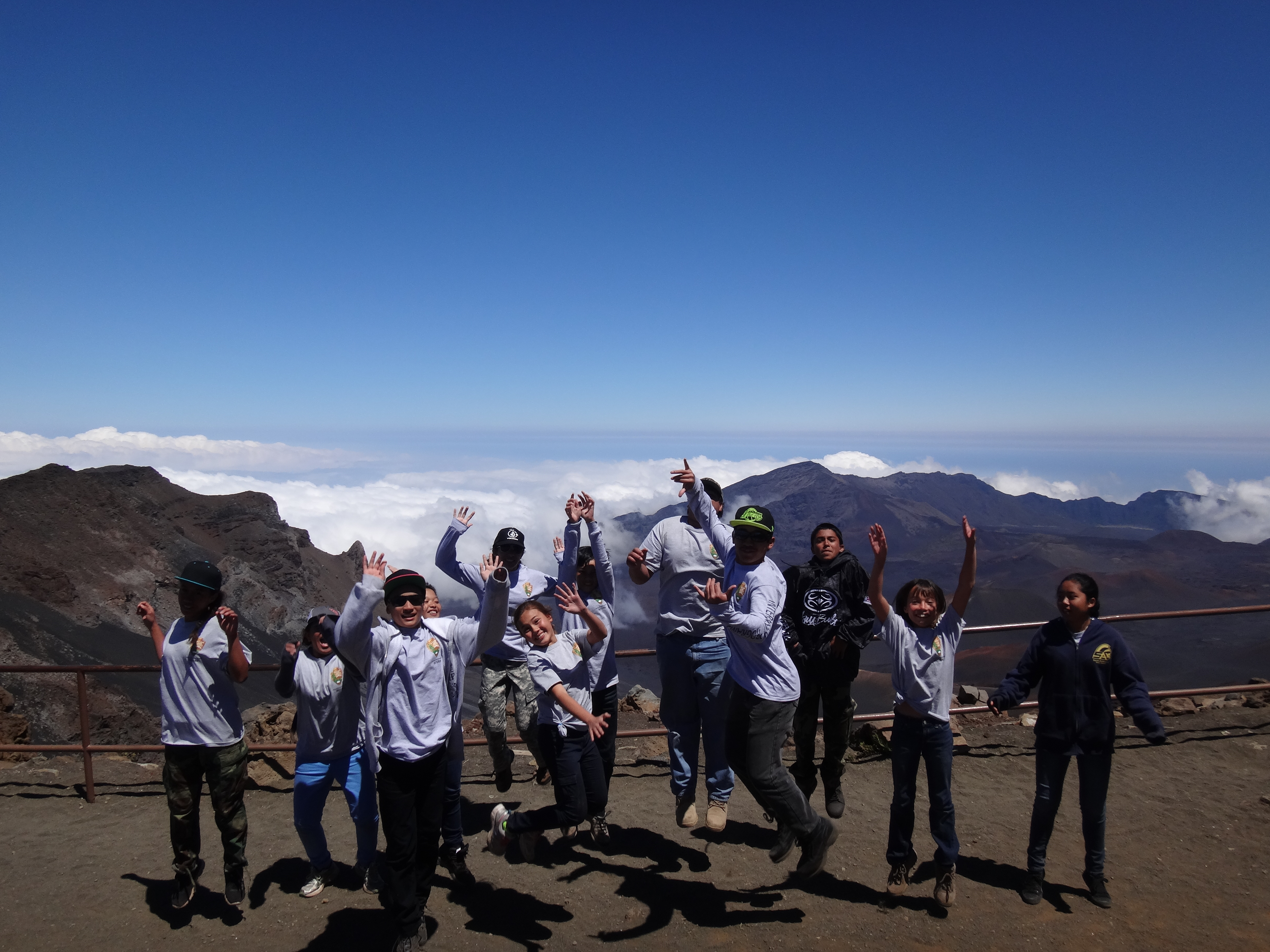 Group shot at the Summit. NPS
Additional details and application packets may be obtained by contacting the park's Internship Program Leader, Serena Kaldi, at (808) 572-4425 or Serena_Kaldi@nps.gov. The deadline to apply is January 7, 2015. You can also visit the program's Facebook page at "Kū No Ka Pono O Haleakalā" for additional information.