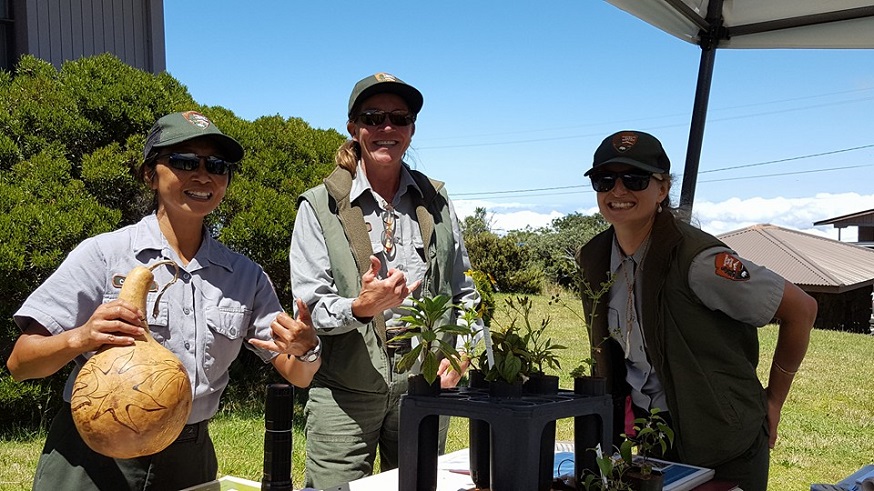 News Release Date:
August 26, 2016
Contact: Polly Angelakis, 808-572-4450
On August 25, 2016, Haleakalā National Park celebrated the Centennial of the National Park Service with activities, special programs, cultural demonstrations, and a brief ceremony. Free admission will continue through August 28, 2016.
At the ceremony, Superintendent Natalie Gates shared remarks that celebrated all national park stewards, past and present: "Since August 25, 1916, the National Park Service has sought to preserve unimpaired the natural and cultural resources for the enjoyment, education, and inspiration of this and future generations. Today, our success depends on the work of park employees, partners, volunteers, and visitors to fulfill the National Park Service mission. I'll bet, regardless of where you've been or where you're from, you have a memory in a national park ….When you visit national parks, you not only get to see our preservation efforts—you become a part of our history here.
"She encouraged the audience to share their favorite national park memories. Visitors spoke of finishing a challenging hike, sharing a special park with family, and seeing wildlife for the first time. After her speech, visitors continued to reminiscence with staff and each other. They also participated in cultural demonstrations, interviewed staff and volunteers about the jobs they do, and took part in numerous special programs that commemorated the agency's birthday. Superintendent Gates led a group of visitors on a Centennial Hike on Halemau`u Trail.
Haleakalā National Park and Hawai`i Volcanoes National Park were established August 1, 1916 as one unit--Hawai`i National Park--before becoming separate parks 45 years later. On August 25, 1916, the National Park Service was established, to conserve "the scenery and the natural and historic objects and the wild life therein" for future generations. Stephen Mather and Horace Albright were the driving forces behind the creation of the National Park Service. Mather, who became the agency's first director, believed that "the whole purpose of Congress in creating the national park system was that the American people might enjoy them and benefit by them forever."
Albright, the second director, firmly believed "each of us is an integral part of the preservation ofthe magnificent heritage we have been given, so that centuries from now, people of this world, or perhaps of other worlds, may see and understand what is unique to our earth, never changing, eternal."
In addition to the in-park events, the Maui Arts and Cultural Center will host an exhibit featuring all national parks in Hawai`i. The exhibit opens on August 30, 2016. The Friends of Haleakalā National Park and the Hawai`i Pacific Parks Association are two sponsors of this exhibit. For more information about the exhibit please go to http://mauiarts.org/exhibit-detail.php?id=87.