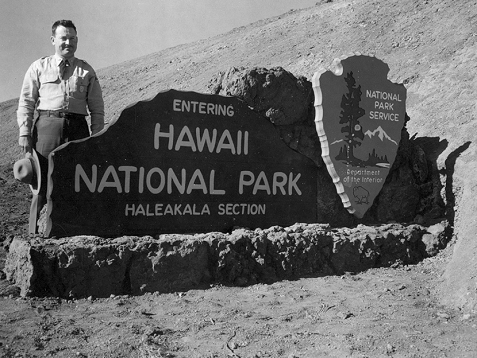 News Release Date:
August 19, 2016
On August 25, 26, 27, and 28, 2016, Haleakalā NP will waive entrance fees as the National Park Service marks its Centennial birthday. In addition, on August 25, 2016, the park will offer numerous events commemorating the Centennial.
Scheduled activities will be posted at the park visitor centers and include the following:
August 25, 2016 at the Summit District:
From 8:30-noon, staff will offer cultural demonstrations at the Haleakalā Visitor Center (9470 feet elevation, on the crater rim).
At 10 am there will be a special talk at the Kalahaku Overlook about the history of the park.
From 10am-12pm, at Headquarters Visitor Center (7000 feet elevation), staff from the resource management, maintenance, interpretation, and other park divisions will share stories and insights regarding the work they do.
At 11am at Headquarters Visitor Center, Superintendent Natalie Gates will share brief remarks on the Centennial of the National Park Service.
At noon, Superintendent Gates will lead a special one-hour hike along the Halemau`u trail.
From 7-8 pm, at Summit building (10,023 feet elevation) there will be a special evening program about National Park Service history.
On August 25, 2016 in the Kīpahulu District, staff will offer activities and cultural demonstrations from 1-3pm.
Haleakalā National Park and Hawai`i Volcanoes National Park were established August 1, 1916 as one unit--Hawai`i National Park--before becoming separate parks 45 years later. On August 25, 1916, the National Park Service was established, to conserve "the scenery and the natural and historic objects and the wild life therein" for future generations. Stephen Mather and Horace Albright were the driving forces behind the creation of the National Park Service. Mather, who became the agency's first director, believed that "the whole purpose of Congress in creating the national park system was that the American people might enjoy them and benefit by them forever."
Albright, the second director, firmly believed "each of us is an integral part of the preservation of the magnificent heritage we have been given, so that centuries from now, people of this world, or perhaps of other worlds, may see and understand what is unique to our earth, never changing, eternal."
Reflecting on Mather and Albright, Gates remarked, "We are able to honor the vision of our first directors due to the continued help of local residents, visitors, volunteers, and partners."
In addition to the in-park events, the Maui Arts and Cultural Center will host an exhibit featuring all national parks in Hawai`i. The exhibit opens on August 30, 2016. The Friends of Haleakalā National Park and the Hawai`i Pacific Parks Association are two sponsors of this exhibit. For more information about the exhibit please go to http://mauiarts.org/exhibit-detail.php?id=87.