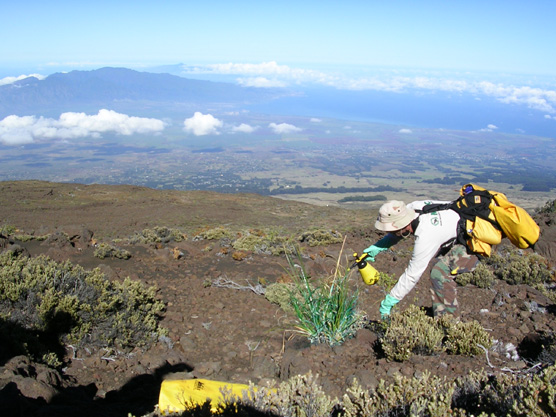 News Release Date:
April 25, 2008
Contact: Dominic Cardea, 808-572-4450
(Maui, Hawai'i)– Placing in the ground unique and rare plants, protecting valuable habitat from invasive weeds, reconnecting cultural life-ways with a mountain, and giving children the knowledge and experience to mälama (care for) the land in the future are only a few of the benefits of a large scale watershed protection partnership catalyzed today as a result of the NPS Centennial Challenge.
"This is an incredible opportunity to make a real difference in not just our national park but all of Haleakala and the people of east Maui," said superintendent Marilyn H. Parris "This is boots on the ground, knowledge for our children, and a real legacy we can be proud of."
National Park Service Director Mary A. Bomar said, "With the nearly $25 million Congress has appropriated and nearly $27 million of matching commitments from our park partners, the Centennial Initiative today moves onto the landscape and into people's lives. It's a great day for the National Park Service and a great day for Haleakala National Park and the island as a whole." The
National Park Centennial Initiative is a 10-year program to reinvigorate America's national parks and prepare them for a second century. The initiative includes a focus on increased funding for park operations plus a President's Challenge: up to $100 million a year in federal funds to match $100 million a year in philanthropic donations to the National Park Service.
"This is how we put our Centennial goals on the ground and it's quite a beginning," Bomar said. "We have 110 programs and projects involving more than 130 individual, public and non-profit partners benefiting 76 national parks in 38 states and the District of Columbia."
Haleakala's Centennial Project proposes to match the effort by the Maui Invasive Species Committee (MISC) to expand on current watershed management to prevent the invasion of ecosystem-modifying weeds such as pampas grass and miconia into Haleakala National Park and other prime conservation areas of the watershed. Additionally partners will cooperate to restore rare and endangered plants found only on Haleakala. The project will propagate and plant a suite of rare and endangered species that are not recovering naturally, safeguarding the continued existence of the species in the park. Maui students will actively participate in the project through the Ho'ike o Haleakala environmental education curriculum. The curriculum will be taught in an estimated 90 classroom sessions per year along with bi-monthly field trips educating students on the value of the project and park/watershed resources and the threats from weed invasion. Haleakala National Park's Centennial Project will cost $2,230,000 over a two-year period. The NPS Centennial Challenge will contribute $500,000 per year and the Maui Invasive Species Committee (MISC) will contribute $600,000.
The National Park Centennial Initiative provides a framework for the National Park Service to engage the public in its mission. Its goals and strategies will embrace new constituents and gain support from a broad array of public and private partners to ensure America's national parks continue to thrive into the next 100 years.
"The National Park Service can not do it alone," Commented Superintendent Parris. "It is the help of our partners that enriches and multiplies our efforts."
Partners for this project include:
· County of Maui
· East Maui Watershed Partnership
· Leeward Haleakala Watershed Restoration Partnership
· Maui Invasive Species Committee
· The Nature Conservancy
· State of Hawaii Dept. of Land and Natural Resources
· Haleakala Ranch
· East Maui Irrigation
· Hana Ranch
Centennial Challenge programs and projects for 2008 elsewhere in the United Sates include:
· Lewis and Clark National Historical Park where park rangers and staff will adopt the Class of 2016, today's fourth-graders, and bring them into the park for special programs several times a year until they graduate from high school.
· Nine national parks across the country will embark on a national effort to discover and catalog all plant and animal life in the national parks – technically speaking, they will conduct all taxa biologic inventories.
· Padre Island National Seashore will expand its project to restore the endangered Kemps ridley sea turtle. · Upgraded and new interpretive trails at San Antonio Missions National Historical Park, Valley Forge National Historical Park, Kennesaw Mountain National Battlefield Park, Hagerman Fossil Beds National Monument, Point Reyes National Seashore and other parks.
· Restoration of ancient redwood forest and watershed in Redwood National Park.
· Water quality enhancement, restoration of endangered mussels, reintroduction of Trumpeter Swans and wetland habitat learning experiences for visitors at Buffalo National River.
· Creation of the Institute at the Golden Gate to Advance Preservation and Global Stability, Golden Gate National Recreation Area in San Francisco.
· New or expanded Junior Ranger programs at many national parks.
· Expansion of ranger interpretation at the Chesapeake and Ohio Canal National Historical Park and the George Washington Memorial Parkway with new technology including podcasts and videocasts.
· Rejuvenate coral reefs with a community program at Biscayne National Park.
For a complete list of the 2008 National Park Service Centennial Challenge projects and programs please visit www.nps.gov/2016 . -NPS-