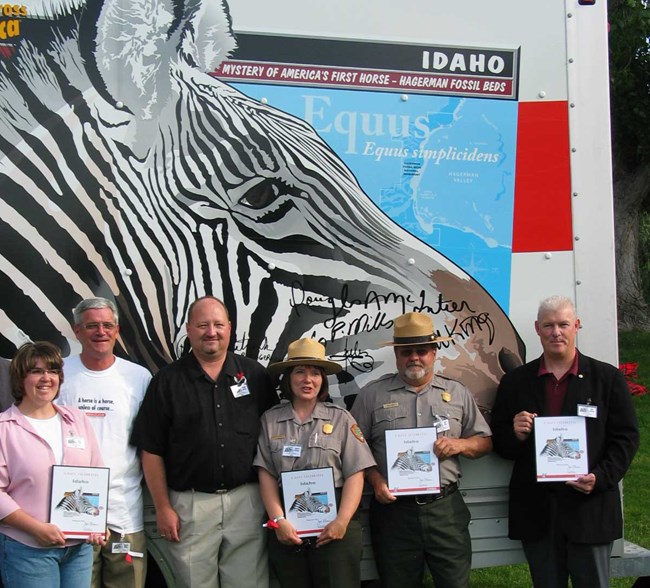 Idaho's Extinct Hagerman Horse Rides Again with U-Haul
HAGERMAN, Idaho— Hagerman Fossil Beds National Monument partnered with U-Haul to develop Idaho's Hagerman Horse SuperGraphic as part of the "Venture Across America" Campaign. The Hagerman Horse was a precursor of the modern horse and galloped across the land more than 3.0 million years ago along the shores of the now extinct Lake Idaho.
On Friday, May 25, 2007 U-Haul officially kicked off the opening ceremonies for this year's Hagerman Fossil Days Celebration with the unveiling of a van showcasing the Hagerman Horse. Attended by 2500 people it was the highlight of the two day community based celebration.
Withhorses lying at the heart of one of North America's greatest mysteries,the uncovering of ancient, mysterious bones from the animal dubbed the "Hagerman Horse" was an extremely important find. It proved to be the largest sample of this extinct species from one locality and is the oldest know representative of the genus Equus, which now includes all modern horses, donkeys and zebras.
"We are thrilled to partner with Hagerman Fossil Beds to educate the public about this ancient animal, now Idaho's state fossil, that provided scientists clues to what the land was like more than 3 million years ago," stated Doug McIntier, president, U-Haul Company of Idaho. "Now, people all over will have the privilege of seeing America's first horse, as it comes to life and rides with U-Haul across North America on the sides of our moving vans."
"The National Park Service is very pleased that U-Haul has chosen the Hagerman Horse image as part of its 'Venture Across America' Campaign," stated Neil King, Superintendent, Hagerman Fossil Beds National Monument. "Preserving the Hagerman fossils for future generations is our primary mission and having the Hagerman Horse displayed on vehicles traveling our roadways is a great opportunity for all Americans to learn about this special place in Idaho."
U-Haul announced the release of 600 new 26-foot moving vans showcasing Idaho's Hagerman Horse. The collaborative effort and partnership helps the National Park Service in our mission to educate the public about our national heritage.