History & Culture
Prehistory and Early History
During the Archaic and Historic periods, small groups of American Indians camped, hunted, fished, and gathered food throughout the area; salmon from the Snake River was an important source of food.
Lifeways of many groups changed with the reintroduction of the horse around AD 1700. Some Northern Shoshone and Bannock groups obtained horses and vastly extended their range. Other groups (such as Western Shoshones) eschewed a dependence on horses and maintained their seasonal pedestrian nomadism with an emphasis on fishing. At the time of European contact, Bannocks, Paiutes, and Shoshones lived in the area.
During the early 1800s, American Indians along the Snake River traded fish and other products with traders and trappers. This trade extended to emigrants on the Oregon Trail, who began passing through in 1841. The trail across southern Idaho was typically hot, dry, and dusty;travelers were exhausted, and a stop at the Snake River was a welcome respite. In the late 1800s, Indians were forcibly removed to reservations and settlers of European descent followed with ferries, mining, farming, ranching, and other activities.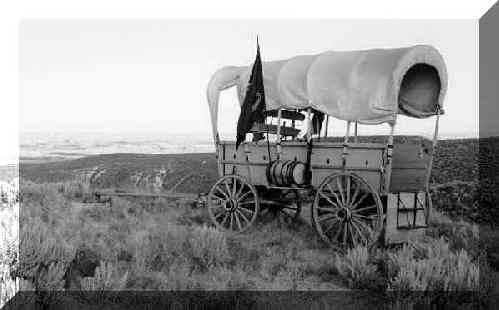 The Oregon Trail
The Oregon Trail crosses the southern portion of Hagerman Fossil Beds. The Monument is one of only four units in the National Park system that contains parts of the Oregon National Historic Trail. Ruts for the trail can be seen at the Oregon Trail Overlook parking lot.There is a
National Historic Trail
that was established to help you learn about and appreciate the migration west.
In was in 1836 that the first wagons were used on the trek from Missouri to Oregon. A missionary party headed by
Marcus Whitman and his wife Narcissa
bravely set out to reach the Willamette Valley. Though the Whitmans were forced to abandon their wagons 200 miles short of Oregon, they proved that families could go west by wheeled travel.
In the spring of 1843, a wagon train of nearly 1,000 people organized at Independence, Missouri with plans to reach Oregon Country. Amidst an overwhelming chorus of naysayers who doubted their success, the so-called "Great Migration" made it safely to Oregon.
By 1846, thousands of emigrants who were drawn west by cheap land, patriotism or the promise of a better life found their way to Oregon Country. With so many Americans settling the region, it became obvious to the British that Oregon was no longer theirs. They ceded Oregon Country to the United States that year.
Finding Fossils
In 1928, a Hagerman rancher named Elmer Cook showed some fossil bones to Harold T. Stearns of the US Geological Survey, who passed them on to James W. Gidley of the Smithsonian Institution. In 1929 and 1930, Gidley excavated what is now known as the Hagerman Horse Quarry. These excavations uncovered the largest assemblage known of the first single-toed horse, Equus simplicidens. The Hagerman Horse later dispersed to Asia, where it may have given rise to other species of extinct horse.
The Smithsonian excavations resulted in the collection of more than 20 complete horse skeletons and material from more than 200 other individuals; many of these fossils were subsequently traded with museums across the nation and in Europe. Today, paleontological specimens from Hagerman Fossil Beds are housed on-site in the park collections and at more than 40 academic institutions across the nation. Since the Smithsonian first excavated in 1929, tens of thousands of additional fossils have been found, and new fossils, including those of new species, continue to be discovered. These fossils contribute to a vast database that today's researchers can use to help reconstruct the evolutionary history of species and of changing paleoclimatic conditions.
Seldom are complete skeletons of an animal found. Most of the fossils newly discovered are small, and may be teeth, scales, or parts of jaws or other bones. More than field excavations, paleontology work involves more hours in a laboratory than in the field collecting. There are no open pits to view or field units doing current collecting of fossils at Hagerman Fossil Beds National Monument. All fossils on park grounds are protected by law and may not be gathered, moved, or molested during your park visit.
Books and other Materials for Additional Information
Our
park bookstore
, run by Discover Your Northwest, has many park related titles including information on the Oregon Trail, Hagerman Horse, and Idaho history and geology. Come browse our shelves!

Last updated: August 17, 2019