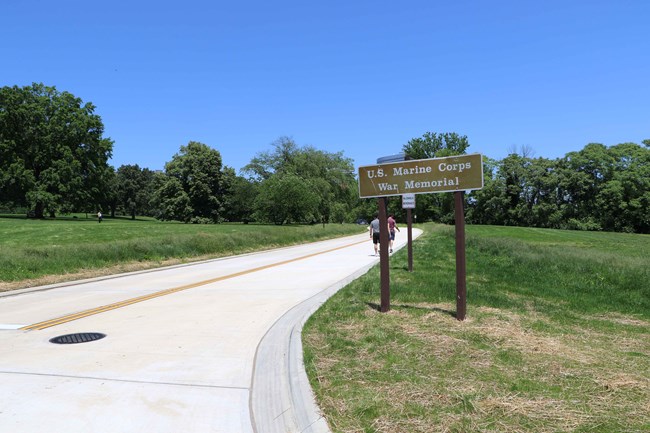 June 2018 Update:
The US Marine Corps War Memorial Access Road has been reopened! This marks the completion of the second phase in a three phase rehabilitation project. The first phase, the cleaning and rehabilitation of the memorial, was completed last November.
The US Marine Corps War Memorial is visited annually by about 1.5 million visitors. Many of these visitors arrive in buses that use the park access road. The new concrete roadway will be able to better withstand the amount of visitation and better accommodate special park uses, like the Marine Corps Marathon. All three phases were made possible by David Rubenstein's generous donation.
Later this year, visitors to the memorial will see a rehabilitation of the grounds. This phase will improve the existing bollard pathway lighting to enhance the evening experience and improve visitor safety, as well as install new landscaping consistent with the historical design of the memorial. Additionally, new signs and waysides will be installed on the site.
The memorial will remain open to the public throughout this final phase, but there may be impacts to the visitor experience while work occurs at different parts of the site.