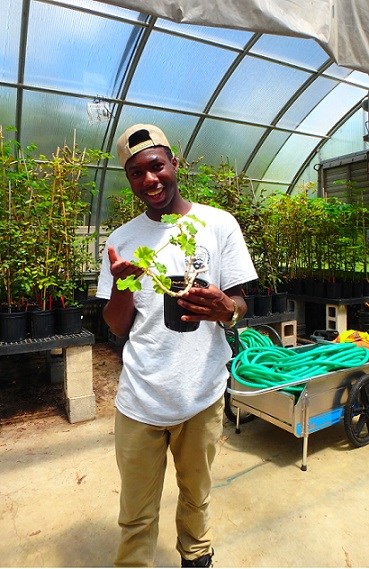 Youth Conservation Corps (YCC)
Summer 2018 Employment
We are looking for YCC crew members to work with us this summer.
This position is a seven-week program with the George Washington Memorial Parkway which includes many park sites in Virginia along the Potomac River. Five YCC positions will be filled with the park. These individuals will work as a team to help make the park a safer and more beautiful place. Duties include r
emoving fallen debris from trails, c
utting back overgrown vegetation using hand tools, i
dentifying and removing non-native invasive plants, r
eplacing deck boards on wooden foot bridges and t
rash removal.

Hourly Rate: $7.25/hr, 40 hours per week
Time and Location:
Monday - Friday, 7:30 am - 3:30 pm
YCC members report to the Arlington Cemetery Metro Station. From the Arlington Cemetery the YCC will be transported to the daily work site by the YCC supervisor. Work sites will vary day to day with the majority of projects taking place along the Mount Vernon Trial, Dangerfield Island, Theodore Roosevelt Island, and Great Falls Park. The YCC supervisor will transport YCC members back to Arlington Cemetery Metro Station to depart work at 3:30 pm.

In order to be a YCC Member you must:
Be 15 to 18 years old. If you turn 19 before August 10, 2018 you are not eligible.

Be a permanent resident of the United States and have a social security number.

Be able to report to work at the Arlington Cemetery on time during workdays for the duration of the program.

Be available for work from June 25, 2017 through Aug. 10, 2018 from 7:30 am to 3:30 pm Mondays through Fridays. This position is not appropriate for anyone who has prior commitments during these dates.

Be willing to do manual labor outdoors.

Have a positive attitude and good work ethic.



Important Dates:
| | |
| --- | --- |
| April 30 | Last day to submit application |
| April 25 - May 3 | Phone interviews held with applicants |
| May 4 | Position selections are made |
| June 23 | Orientation held at Rock Creek Park |
| June 25 | First day of program |
| August 10 | Last day of program |
How to Apply:
To apply for this position, you must complete and submit an YCC application. Applications must be received by April 30. Incomplete or late applications will not be accepted.

Applications may be e-mailed to the YCC coordinator at or mailed to:
700 George Washington Memorial Parkway,
McLean, VA 22101.

Read more about the the YCC program here.