George Washington Carver National Monument is a fun place to visit! Plan to spend a couple of hours or a whole day discovering nature, trying out experiments and learning about George Washington Carver.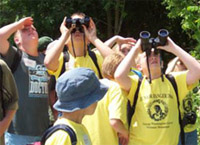 Be a Junior Ranger! Earn a badge by learning about George's boyhood home. Students can complete the Junior Ranger Program on a single visit or by making reservations in advance to participate in Junior Ranger Day. A summer Junior Ranger Program is also available for students ages 8 - 12.
Upon successful completion of a junior ranger booklet, children are awarded with a junior ranger badge and certificate.

Download one or both booklets.
The Plant Doctor (PDF)
The Scientist (PDF)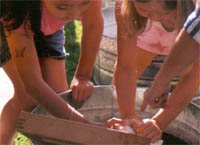 Many activities at George Washington Carver National Monument are from the everyday life of the 19th century - like washing and drying laundry the old-fashioned way. These hands-on programs help us to imagine young George's life on the Carver Farm.
Be sure to also check out the NPS WebRanger web page for a wonderful on line experience.
The Children's Corner