Self guided driving tour
Explore the perimeter of the battlefield by driving on the 2.25 mile one-way tour road, along the tour road with eight tour stops and access into the interior by walking trail. The first stop is only accessible by foot towards the front gate of the Visitor Center. The next seven stops have parking lots or pull off areas. Visitors will drive through key parts of the battlefield such as the American First, Second, and Third Line. You must step out of your car to read the exhibit panels and the monument descriptions. The speed limit is 20MPH, and cars must drive one-way on the right side of the road, making room for pedestrians. You will share the road with bicycles.

The driving route is indiciated on the map below by the red line.

Battle of Guilford Courthouse Cell Phone Driving Tour

Guilford Courthouse National Military Park offers self-guided cell phone walking and driving tours. Ask for a map brochure at the Visitor Center, and a park ranger will assist you with starting the tours on your smart phone device. This self-guided cell phone driving tour takes you along the Tour Road, offering 9 spots to drive your car and park to listen about the battle. This is a perfect rainy-day alternative to walking the battlefield.
Tour Stops include:

1A. Introduction to the Campaign
1B. The Armies Arrive
2. The First Line of Battle
3. The Second Line of Battle
4. The Separate Fight
5. Evolving Interpretation
6. The Third Line of Battle
7. Aftermath of Battle
8. Conclusion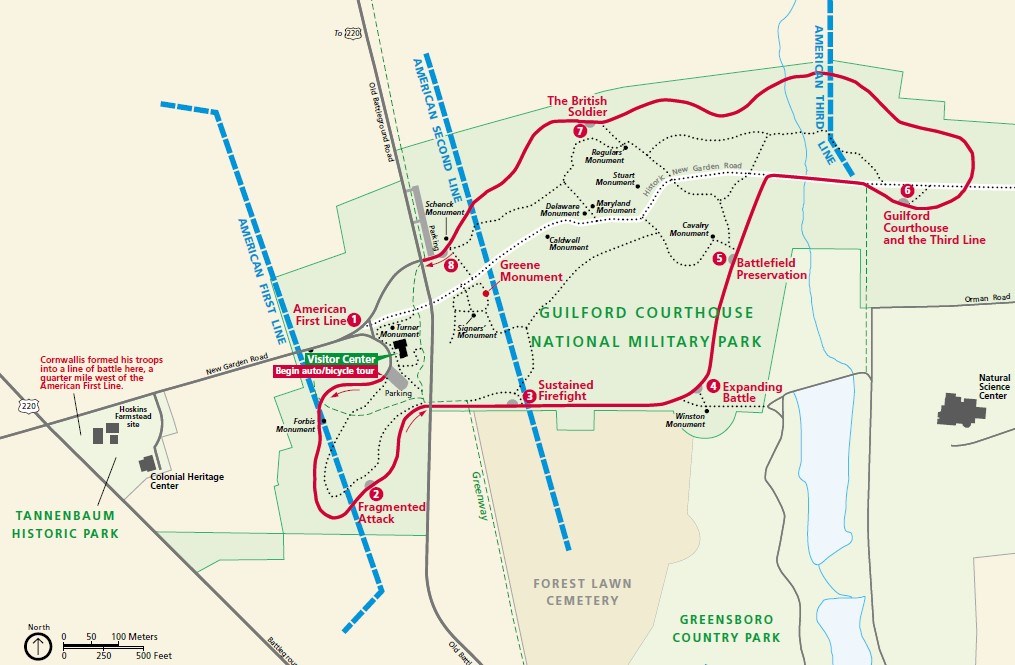 Last updated: March 1, 2021