Guided Tours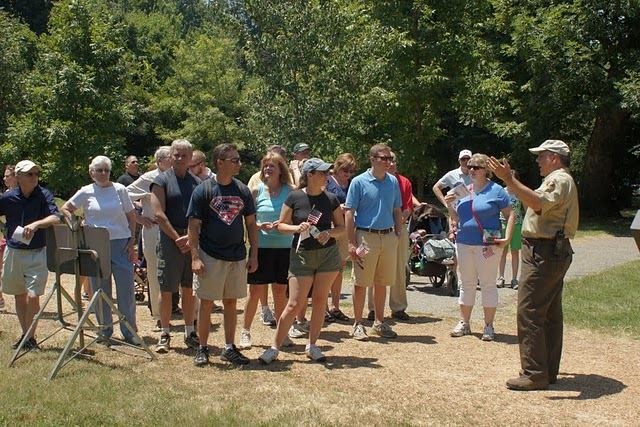 Guided Battlefield and Monuments Tour
The schedule is TBD due to modifications to Visitor Services for COVID-19.
You can relive the battle by walking across the field with veteran park guide Scott Culclasure and hear accounts of the fight and stories of the park's monuments.
The walk lasts approximately 75 minutes and follows historic New Garden Road through the center of the park. Comfortable walking shoes appropriate for gravel paths and moderate hills and, on hot days, a water bottle are recommended.
Guided Tours of Hoskins Farm Site - 2021 TBA
Learn about the Hoskins family and 18th century back country life in a guided tour of the historic buildings and kitchen garden. Wear good shoes for walking outdoors, and water bottles are recommended for hot weather.
Visitors will meet the Park Ranger or Volunteers-in-Park at the Hoskins Farm at 2200 New Garden Road.
Tours are dependent on good weather conditions, and cancellations will be posted on our Facebook page.
Requesting Park Ranger led tours
Group tours led by Park Rangers require a two-week advance request, and such requests can be made by calling (336) 288-1776 ext. 232. Ranger availability depends on staffing and season. Check out our
Calendar page
for special tours of the battlefield or the
Hoskins Farm Site.


Last updated: February 27, 2021