Women of Guilford Courthouse
Women in War

There is a traditional image of women during the American Revolution. The image is of a dutiful wife sitting at the fire and pining over her husband. Children are wrapped around her ankles. Women at home definitely longed for the safe return of fathers, brothers, and husbands. Their roles during the Revolutionary era, however, were far more complex than that.

Revolutionary women participated in the fight for independence with dedication and determination. They oversaw their families' livelihoods and provided supplies for long-suffering American soldiers. They accompanied the army into the field, caring for the sick and wounded while also putting their own lives on the line for the patriot cause. Women did this despite living in a society that downplayed their involvement.

Women found different ways to stay close to the army. They placed themselves into the heart of the Revolutionary War. Many became camp followers, joining the supply train and marching on campaign. Some became nurses, while others carted buckets of water to cool the cannons on the field. Women marched hundreds of miles, and some brought their children on campaign. At the Battle of Guilford Courthouse, Earl Cornwallis ordered women of the British army to recover the wounded from the field.

The 1778 Battle of Monmouth in New Jersey created an American legend. Molly Hayes found herself in the thick of battle as she carried water buckets to the artillery on the field. She saw that an artillery man was wounded and could not perform his duty. Hayes stepped in and took over his position. Hayes braved gunfire and mortal danger to support the American cause. The bravery of Molly Hayes created a figure that represented the values of the war's women. "Molly Pitcher," named for the buckets she carried, became a household name.

Margaret Corbin became a camp follower to travel with her husband on campaign. In 1776, she dressed as a man to join her husband on the field. Margaret Corbin loaded cannons during the Battle of Fort Washington. British forces fired on Corbin during the engagement, leaving her with serious wounds. Corbin could no longer use her left arm, and her jaw received heavy damage. She received a pension for her service for the rest of her and her immediate family's lifetime. Her pension, however, was only worth half as much as a man's.

Deborah Sampson enlisted in the Continental army under the alias of Robert Shurtleff. She served for over two years in the Continental army using this guise. Sampson led raids, scouted for intelligence on tory movements, and fought during many battles. She even extracted a bullet from her own thigh to keep her identity a secret. Medical staff learned the truth about her gender when she became seriously ill. Sampson received an honorable discharge in 1783. After the war, Sampson gave lectures about her experience across the country. Dressed in her uniform, Sampson said that her time in the war could only be attributed to the follies of youth.

Women's lives changed across the country during the Revolution. Women's home roles had to change to ensure their families' survival. The male heads of households were absent. Women took charge of farmlands, oversaw livestock, and petitioned the government for funds. They also took over textile work, a key economic good left behind as men went to war. The survival of such an industry was crucial to the new United States economy.

As the war continued, groups of women met to sew shirts for the undersupplied American army. A guest of Abigail Addams recalled stepping into the parlor of her house. There, a dozen women furiously stitched shirts to add to the growing piles around the room.

Companies petitioned women to send pieces of worn-out linens for the war effort. The supply of the army was critically low. A North Carolina paper manufacturer begged for scraps that doctors could use for bandages. Women organized pledge drives to supply the army, and they became common across the colonies. Naysayers saw the drives as a way for women to keep themselves entertained. In response, one woman wrote "…some persons have amused themselves…but we have made it serious business."
Memorialized Women at Guilford Courthouse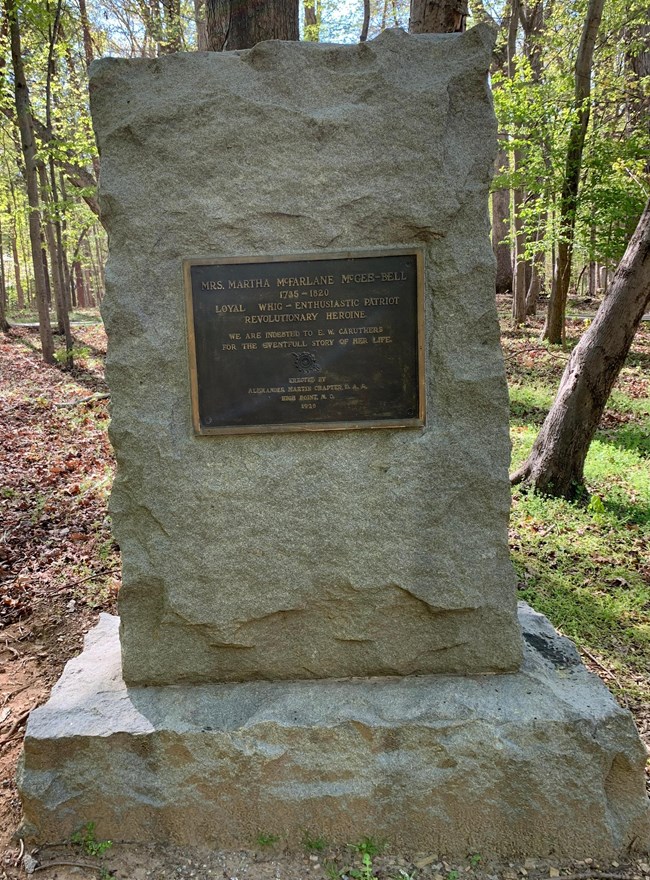 Martha McFarlane McGee-Bell
Her monument says "Loyal Whig, Enthusiastic Patriot, Revolutionary Heroine." We wanted to give you more insight to her story than the monument can. Martha was married twice, inheriting a grist mill from her first husband Colonel John McGee, an officer of the British Army. Her second husband was William Bell, and they shared an ardent passion for patriotism. He also owned a grist mill in the Deep River Community, where Martha would interact with Lord Cornwallis days after the Battle of Guilford Courthouse. Cornwallis informed Martha that her home would become his headquarters and the men would use the mill. Her husband was with Greene's camp at the time, to avoid falling into the enemy's hands. Martha inquired to Cornwallis his intentions for potential property destruction, but he assured her no harm would befall the property.
Martha replied, according to historian Eli Caruthers, "Had your lordship said that you intended to burn our mill, I had intended to save you the trouble by burning it myself before you derived much benefit from it." Because Cornwallis pledged no harm, Martha did not destroy the property.
The backcountry has dissolved into a civil war between patriots and loyalists, and Martha Bell had often interacted with the notorious Loyalist David Fanning who had threatened her family on more than one occasion. Martha served her local community as a nurse and midwife, and accompanied friend Mary Dougan to the coast to see her captured husband, Col. Dougan.
Last updated: February 28, 2021