African Americans at the Battle of Guilford Courthouse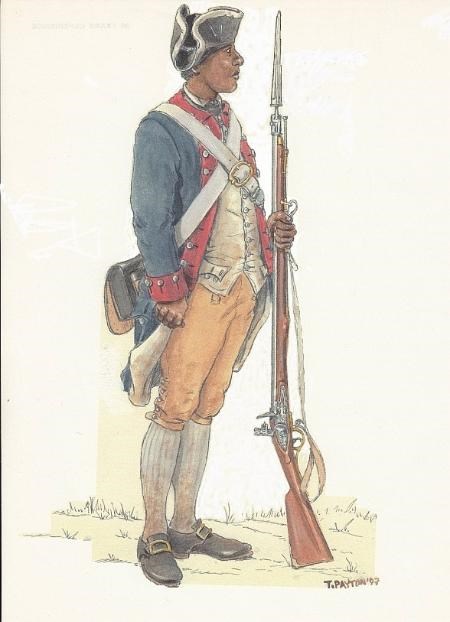 At the Battle of Guilford Courthouse, there are numerous accounts of black men serving in the Continental Army and within the militia. But not all of their stories will ever be told. An unfortunate reality of "doing history" is that the further back we reach the details of life become sparser for common citizens.
For some of the men all we have are names and where they came from.
Thomas Gibson, a free man in Guilford County, enlisted for 2 years in 1781 at the age of 18.
William Coff served in the Virginia state line.
Cyfax Brown was present at the battle, a servant for a Virginia militia officer.
For others, our evidence of their service comes from British records.
"Negro" George appears on a March 17, 1781 list of prisoners captured at Guilford Courthouse. He had served in the 2nd Maryland Regiment. North Carolina militiaman "Negro" Richard Pendegrass also appears on the list. Within the records of all the armies in this war there is a tendency to note an individual's race when they are a person of color.
For the men whose details survive much clearer through history, veteran's pension applications often serve as our guide. Part of the process of applying for a pension involved giving verifiable testimony of your service.
Andrew Peebles was a "free mulatto" born in 1744 and served numerous tours in varied units from Virginia. One time infantry, one time artillery, by the time he arrives at Guilford Courthouse he was a light infantryman in Light Horse Harry Lee's Legion. He is eventually wounded three times in September 1781 at the battle of Eutaw Springs. He survived the war, received a Federal pension, and after his death, the state of Virginia awarded a land bounty to his heirs for his service.
Thomas Mason was a "free mulatto" born in 1760 who served numerous tours with the Caswell North Carolina Militia. He was wounded in the hand at Guilford Courthouse; he survived the war but would die before the government began issuing pensions. When his wife and son applied for his pension they were denied, likely due to lack of evidence. A common theme you see across many veterans of the time is that they recall receiving discharge documents, but very few hold onto them.
One of the most unique stories to occur with Guilford Courthouse is the events surrounding Edward "Ned" Griffin. Ned was an enslaved man, and came to serve in the army because of another man's desire to flee his duty. William Kitchin was a deserter from the North Carolina Brigade, and having been caught, he was threatened with the prospect of being returned to service. William had Ned serve in his place, on the understanding that once he finished his service, Ned would receive his freedom. Ned served honorably at Guilford Courthouse but upon his discharge in July 1782, William reneged on their agreement.
It took petitioning the North Carolina General Assembly to fix the matter. In 1784, the Assembly granted Ned his freedom for his honorable service, and Ned earned his enfranchisement.
Last updated: February 28, 2021