Crown Forces Soldiers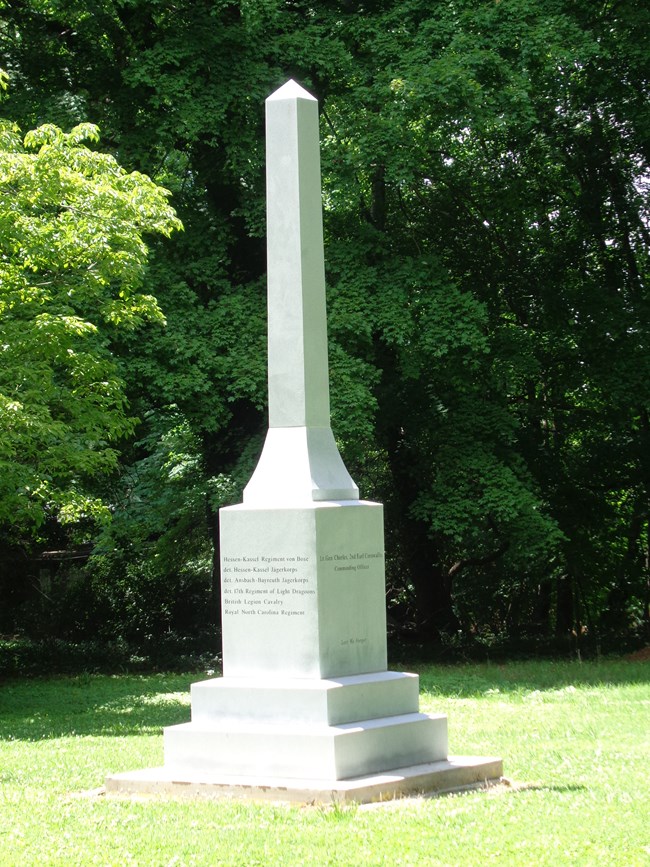 Crown Forces Regiments
Foot Guards Battalion: organized as early as 1650, the Food Guiards acted as the King's personal guard

7th Regiment of Foot, Royal Fusiliers: formed in 1685, the regiment had been captured at Cowpens, but a few fought here.

23rd Regiment of Foot, Royal Welsh Fusiliers: this renowned regiment compiled an impressive battle record prior to Guilford Courthouse.

33rd Regiment of Foot: this was the training regiment for the British army and Lord Cornwallis served in this regiment.

71st Regiment of Foot, Frazier's Highlanders: The 1st Battalion was captured at Cowpens, and the 2nd Battalion fought here.

Royal Artillery Regiment: The artillery regiment served in almost every action of the war. This regiment was the first to face off at the Battle of Guilford Courthouse, battling Singleton's artillery fire on New Garden Road.
Musketeer Regiment Von Bose: formed in 1701, this experienced German regiment arrived in America in 1776 and fought several battles before Guilford.

Ansbach-Beyreuth and Hesse-Cassel Jaeger Corps: considered an elite corps, Jaegers fought in many Revolutionary War actions.

British Legion: raised in 1778, its quick and savage attacks earned it a fierce reputation.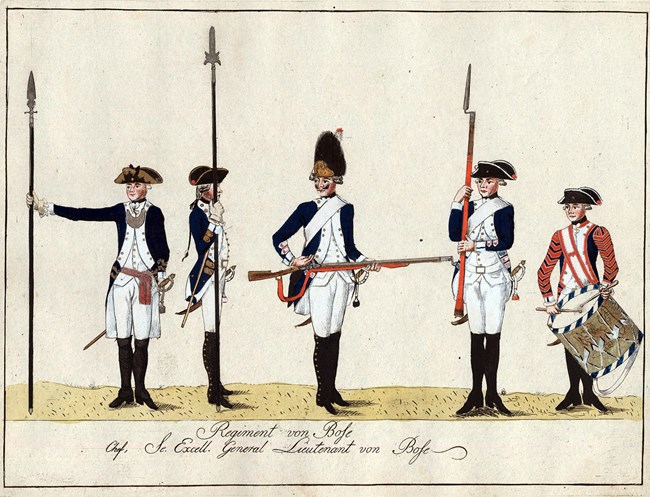 Hessians
Nearly 30,000 total "Hessians" served in North America but they were not all form Hesse-Kassel, a small principality in what is today Germany. The reason that term is used to reference all these Germanic soldiers is due to the fact that the overwhelming majority of them (18,000) came from that one state. As for the Hessians at Guilford Courthouse, the Regiment Von Bose were indeed true Hessians, while the Jaeger Company here may have had a mixture of men but predominantly from Ansbach-Bayreuth.

Often called "mercenaries" this is an ongoing misconception of these soldiers. The individual was not a "soldier of fortune" lending his services to the highest bidder, nor was he profiting from his kingdoms service at a unit level. Hessians were like most other professional soldiers, signing a contract of service (lasting 24 years, but with liberal leave practices in peacetime) and receiving regular pay, food, a uniform and equipment. The ruler of their state, the "Landgrave" received payments from the British government for the service of his army, essentially a subsidy which the British had a preexisting habit of using to supplement their own army.
Jaegers
German rifle units serving alongside the British army, Jaegers were well trained light infantry. A company of about 50 were present on the north end of the British line at Guilford Courthouse. A reoccurring myth of the Revolution is that the British were beaten because they did not understand light infantry or guerilla tactics, but the British army not only employ rifle units, they also have their own light infantry units, all trained to operate in loose or "open" order in rough terrain. The French and Indian War (1754 – 1763) was hugely influential to both Americans and British alike, when it came to refining combat doctrine in North America.
Last updated: February 28, 2021