Lesson Plan
Have to Have a Habitat: Field Trip Post-Site Part 2 - Grade 1 (North Carolina)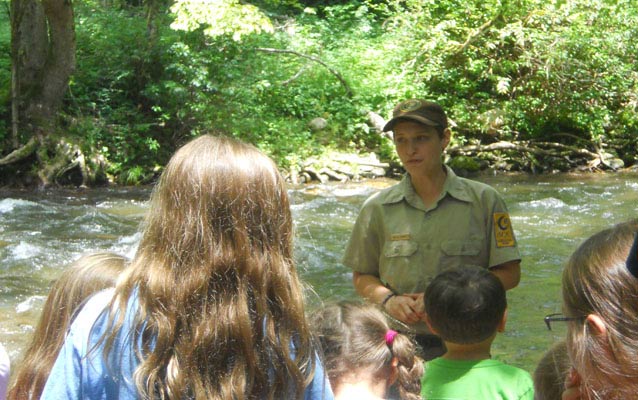 Grade Level:

Kindergarten-Second Grade

Subject:

Biodiversity, Ecology

Duration:

as needed

Group Size:

Up to 60

Setting:

classroom

National/State Standards:

SCIENCE
Ecosystem:
1.L.1
1.L.1.1
1.L.1.2

Earth Systems, Structures, and Processes:
1.E.2
1.E.2.1
1.E.2.2

Keywords:

Great Smoky Mountains National Park, first grade, animals
Overview
The fundamental significance of Great Smoky Mountains National Park is that it is a sanctuary for a remarkably diverse array of native plants and animals, providing a place that students can learn about the different animal groups.
This unit is broken into three parts. The overall unit involves a trip to the park and is accompanied by three preparation activities and three wrap-up activities.  This is part 2 of the wrap-up activities of the unit. 
Objective(s)
1) Students will increase their understanding and appreciation of spiders adaptations and role in the food web.
Background
Teachers coming on the accompanying field trip should download our complete field trip packet that includes all of the lessons: Have to Have a Habitat pre-site lessons, information and directions about the field trip and Have to Have a Habitat Wrap-up lessons.
Download the full Have to Have a Habitat Field Trip packet (includes Preparation and Wrap-up lessons).

Materials
This lesson includes a worksheet with instructions for building a spider hider and a Pre and Post Site Test.
Allows students to make observations as a spider builds its web. Download

Pre site test to be used before the field trip and a post site test to use after the field trip. Download
Procedure
Step 1: Build web frame for spiders.

Step 2: Observe frame over time to monitor any changes.

Assessment
Administer a pre and post site test that is included in the unit.
Vocabulary
environment, habitat, nature, adaptations
Last updated: April 14, 2015