Suggested Reading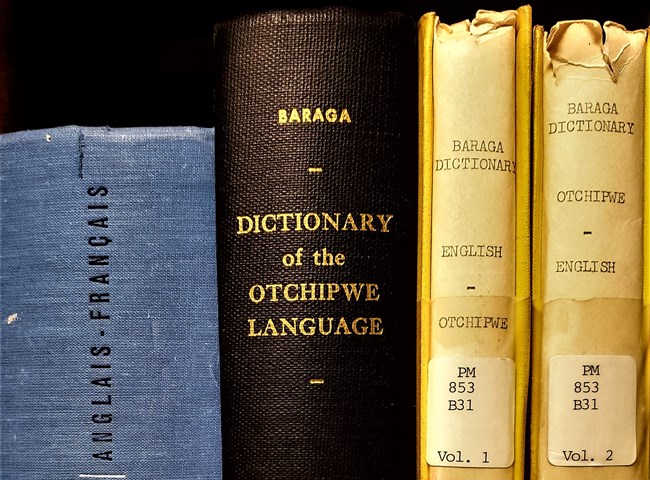 Jump To..
Grand Portage specific
Fur trade
Fur trade journals
Anishinabeg Ojibwe
Historic Gardens
Books for young readers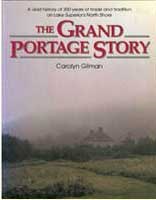 Books for Adults
Grand Portage Specific
Grand Portage Story by Carolyn Gilman. (Saint Paul: Minnesota Historical Society Press, 1992). The compelling tale of Gichi Onigaming (the Great Carrying Place) the legendary fur trade crossroads where Native American and European cultures have interacted for three centuries.
Fur trade
Empire of the Bay: The Company of Adventurers That Seized a Continent. Peter C. Newman. (New York: Penguin Books, 1998). This sweeping volume chronicles the epic adventures of the eccentric knights, unscrupulous financiers, and shrewd Scottish traders who created the North American fur trade. Includes Newman's combined volumes Company of Adventurers & Caesars of the Wilderness.
Exploring the Fur Trade Routes of North America: Discover the Highways that Opened a Continent. Barbara Huck. (Winnipeg: Heartland Publications, Inc., 2000). Explains how the fur trade is the story of North America. Profiles dozens of fur trade sites in Canada and the upper Midwest, including the North West Company Fur Post in Pine City, Minnesota and Grand Portage National Monument.
First Across the Continent: Sir Alexander Mackenzie. Barry Gough. (Norman, OK: University of Oklahoma Press, 1997). The history of Alexander Mackenzie, a man of enormous ego and overpowering ambition who left Scotland in search of opportunity in the North American fur trade.
Lake Superior to Rainy Lake: Three Centuries of Fur Trade History. Jean Morrison, editor. (Thunder Bay: Thunder Bay Historical Museum Society, 2003) This collection of writings focuses on the fur trade along Canada-U.S. borderlands, topics include the rivalry and relationship between the North West Company and Hudson's Bay Company.
Making the Voyageur World: Travelers and Traders in the North American Fur Trade. Carolyn Podruchny. (Lincoln, NE: University of Nebraska Press, 2006). Explores the beliefs, ethics, culture and daily lives of the voyageurs who worked in the fur trade as paddlers and laborers in the eighteenth and nineteenth centuries.
Many Tender Ties. Sylvis Van Kirk. (Norman, OK, University of Oklahoma Press, 1980) Insightful exploration of women's roles on the fur trade society indicating that Indian, Metis and European women maintained a powerful influence.
The Illustrated Voyageur. Howard Sivertson. (Duluth, MN: Lake Superior Port Cities, Inc., 1999). Beautiful, carefully researched paintings, accompanied by informative text relating to various aspects of the Lake Superior fur trade.
The Northwest Company. Majorie Wilkins Campbell. (Vancouver/Toronto Press: Douglas & McIntyre, Publishers, 1957, reprinted 1983) One of the first modern histories of the group of independent fur traders from Montreal that banded together to form the North West Company. Describes their far reaching accomplishments and the course of the country that would become Canada.
The Nor'Westers: The Fight for the Fur Trade. Majorie Wilkins Cambell. (Calgary, Alberta and Allston, MA: Fitzhenry & Whiteside, 2002) Captures the drama of the North West Company fur trade, from 1779 until the Hudson's Bay Company took over in 1821.
Superior Rendezvous Place: Fort William in the Canadian Fur Trade. Jean Morrison. (Toronto: Natural Heritage books, 2001) A history of fort William, in present-day Thunder Bay, Canada and the role it played in the early 19th century fur trade.
A Toast to the Fur Trade: A Picture Essay on Its Material Culture. Robert C. Wheeler illustrated by David Christofferson. (Saint Paul, Mn : Wheeler Productions, 1985) Thoroughly researched wonderful illustrations of actual artifacts found at fur trade sites such as Grand Portage.
The Voyageur. Grace Lee Nute. (St Paul, MN: Minnesota Historical Society Press, 1955, reprinted 1987) For many years, this was the definitive work on French-Canadians who manned the great canoes of the fur trade from Montreal to the far northwest. The author brought the world of the fur trade alive to a wide audience with this book.
The Voyageur's Highway: Minnesota's Border Lake Land. Grace lee Nute. (St. Paul: MHS Press,1941, reprinted 1969). Another classic, describes the routes along Lake Superior that connected to Minnesota's inland waterways used by explorers, fur traders, missionaries, map makers, lumberjacks, miners, conservationists and naturalists.
Where Two Worlds Meet: The Great Lakes Fur Trade. Carolyn Gilman, editor. (MHS Press, 1982) Exhibit catalog; interesting and useful resources for its many important essays and illustrations about the upper Great Lakes fur trade and its material culture.
Fur Trade Journals
The Writings of David Thompson Volume I - The Travels, 1850 Version, Edited With An Introduction By Wiiliam E. Moreau. (The Champlain Society, 2009). One of the finest early expressions of the land and Native people of western North America.
The Writings of David Thompson Volume II - The Travels, 1848 Version, and Associated Texts Edited With An Introduction By Wiilaim E. Moreau. (The Champlain Society, 2015). Volume II of an eventual three volume set based on a fresh transcription from the original manuscript meeting modern standards of documentary editing.
Five Fur Traders of the Northwest. Charles M. Gates, editor. (Saint Paul: Minnesota Historical Society, 1965). One of the first popular resources on the fur trade, this book contains the narrative of Peter Pond, as well as four diaries by John Macdonell, Archibald N. McLeod, Hugh Faries and Thomas Conner (Conner's journal was later correctly attributed to John Sayer).
Harmon's Journal 1800-1819. Daniel Williams Harmon. W. Kaye Lamb, editor. (Victoria, British Columbia: Touch Wood Editions, 2006). Reprint of the authentic 1957 version, this is, "One of the most famous journals of the Canadian fur trade..." It tells an engaging story about the NWCo. and Harmon's initial resistance to new cultures to his marriage a la facon du pays (in the fashion of the country).
My First Years in the Fur Trade: The Journals of 1802-1804. George Nelson. Laura Peers & Theresa Schenck, editors. (Saint Paul: Minnesota Historical Society Press, 2002). The journal of a fifteen year old boy leaving his family and beginning a five-year adventure as a clerk for the XY Company and adapting to his new life as a fur trader.
The Writings of David Thompson, Travels. William E. Moreau, editor. (McGill-Queen's University Press & University of Washington Press, 2009). I

ncludes an introductory essay, placing Thompson in his historical and intellectual context and describing the central themes and characteristics of his work, a textual introduction, a chronology, the 1850 Travels text, and extensive annotations touching on all the branches of knowledge on which Thompson writes, including the fur trade, natural history, astronomy, and native peoples.
Anishinaabeg Ojibwe
History of the Ojibway People, Second Edition. William W. Warren. (Saint Paul, MN, Minnesota Historical Society Press, 2009). This classic history of the Ojibwe is now available with new annotations by Theresa Schenck.
Minong: The Good Place-Ojibwe and Isle Royale. Timothy Cochrane. (East Lansing, MI: Michigan State University Press, 2009). A search through a variety of sources for the history of the Ojibwe people's relationship with a unique island in the midst of Lake Superior.
Ojibwe in Minnesota. Anton Treuer. (Saint Paul, MN, MHS Press).

With insight and candor, noted Ojibwe scholar Anton Treuer traces thousands of years of the complicated history of the Ojibwe people-their economy, culture, and clan system and how these have changed throughout time, perhaps most dramatically with the arrival of Europeans into Minnesota territory.

Ojibwe Waasa Inaabidaa: We Look in All Directions. Thomas Peacock and Marlene Wisuri. (St. Paul. MHS Press).

A uniquely personal history of the Ojibwe culture.

Turning the Feather Around

: My Life in Art. George Morrison. (St. Paul, MN. MHS Press).

In this fascinating self-portrait, George Morrison, who calls himself "an artist who happens to be an Indian," tells a personal story of a life of changing horizons and artistic achievement.

The Four Hills of Life: Ojibwe Wisdom Thomas Peacock and Marlene Wisuri. (St. Paul. MHS Press).

Each hill of life has its own challenges and opportunities. Written by an Ojibwe elder, this learning and activity book describes the journey taken through life by previous generations of Ojibwe living on Madeline Island and its relevance today.
Historic Gardens
Buffalo Bird Woman's Garden: Agriculture of the Hidatsa Indians. Gilbert Wilson. (St. Paul: Minnesota Historical Society Press reprint edition (1987).

The classic account of Hidatsa American Indian "Three Sisters" gardening techniques from Wilson's 1917 anthropological study.

Seed to Seed: Seed Saving and Growing Techniques for Vegetable Gardeners. (Decorah, IA: Seed Savers Exchange, second edition, 2002). A complete seed-saving guide that describes specific techniques for saving the seeds of 160 different vegetables.
Books for Young Readers
Easy readers
The Red Sash. Jean E. Pendizwol, pictures by Nicolas Debon. (Toronto: House of Anansi Press, A Groundwood Book, 2005). A young Metis boy and his family help prepare for the great feast in the Great Hall at Fort William during the annual Rendezvous of the NWCo.
The Voyageur's Paddle. Kathy-jo Wargin, illustrations by David Geister. (Chelsea, MI: Sleeping Bear Press, 2007). Readers follow a young voyageur on his yearly fur trading cycle from wintering post to Grand Portage culminating in the annual Rendezvous of the NWCo.
Chapter books
The Birchbark House. Louise Erdrich. (New York, NY: Hyperion Books for Children, 1999). Readers will be riveted by the daily life of an Ojibwe family beginning in 1847 on Madeline Island. First book in the series.
The Broken Blade. William Durbin. (New York: Bantam Doubleday Dell books for Young readers, A Yearling Book, 1997). In 1800, thirteen-year-old Pierre la Parge signs on to be a voyageur, leaving Montreal and paddling twenty-four hundred miles into the wilderness.
The Game Of Silence. Louise Erdrich. (New York, NY: Harper Collins, 2005). Omakyas's tale, begun in The Birchbark House continues in 1850 with disturbing changes to the traditional Ojibwe way of life. Second book in the series.
Trouble at Fort La Pointe. Kathern Ernst. (Middleton, WI: Pleasant Company Publications, American Girl/History Mysteries, 2000). In 1732, twelve-year-old Suzette hopes her father will win a fur trapping contest so that he can quit being a voyageur and stay with his Ojibwe family year-round. But when he is accused of stealing, Suzette must use her knowledge of both European and Native ways to fine the real thief.
The Porcupine Year. Louise Erdrich. (New York, NY: Harper Collins). In 1852 Omakayas and her Ojbwe family travel west to escape the expansion of settlers encroaching on their land. Third book in the series.
Wintering. William Durbin. (New York: Dell Books for Young Readers, A Yearling Book, 1999). In this sequel to The Broken Blade, Pierre La Page, now fourteen, is ready to become an hivernant, to "winter over," trapping and trading furs with a crew in the north.
With Pipe, Paddle, and Song: A Story of the French-Canadian Voyageurs circa 1750. Elizabeth Yates. (New York: E.P. Dutton, 1968). A young French-Indian boy leaves his familiar life in Montreal to join a brigade of voyageurs traveling deep into the pays d'en haut wilderness of upper Canada.
Activity book
A Great Lakes Fur Trade Coloring Book (Les Fourrures et les grands lacs Chier a colorer). Chet Kozlak. (Saint Paul, MN Minnesota Historical Society Press, 1981). Useful text in both English and French and well-researched coloring sheets that detail various aspects of the fur trade and the daily lives of voyageurs.
Last updated: June 1, 2023