Operating Hours & Seasons
Facilities
Bookstore
Western National Parks Association Bookstores are located in both visitor centers. Call (775) 234-7529 for more information.
Cafe and Gift Shop
Information can be found on the restaurants page.
Park Grounds
Great Basin National Park's grounds are open year round to hiking, stargazing, and camping.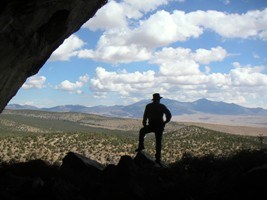 Summer
So arrives the season full of activity. Temperatures are comfortable with highs around 85 F and lows 55 F at 6,825 ft above sea level. Even the yellow-bellied rock marmots who hibernate nine months out of the year reveal themselves to sunbathe on rocky outcrops. Fishermen practice their angler skills in creeks. Hikers enjoy moderate to strenuous hikes early in the day to avoid common afternoon thunderstorms. As darkness falls, anticipation arises for another activity: connecting with the night sky. Stargazers enjoy the best visibility of the Milky Way in the Continental United States.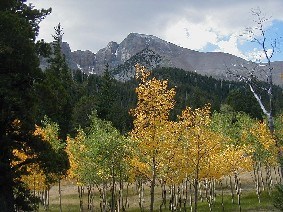 Fall
When autumn arrives, Great Basin National Park shows its colors with groves of aspen trees dotting the mountains in hues of yellow, red, and gold. The air is cool and crisp, uncrowded trails beg to be explored, and pine nuts are ready for picking. Great Basin National Park takes some effort to get to, but those who make the journey reap the rewards of spacious campsites, friendly and available staff, and the company of the oldest trees on Earth. Fall colors typically start developing around the second or third week of September, just as we approach the official start of fall.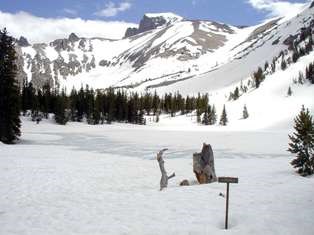 Winter
When winter arrives in Great Basin National Park you experience the true meaning of solitude and silence. Frost delicately ornaments blades of grass along stream beds as water gently runs under sheets of ice. As snow accumulates on mountain peaks, mule deer begin their seasonal migration patterns, moving down to lower elevations. With the arrival of fresh powder brings the anticipation of winter recreation. Trails and roads are explored by a few adventurous visitors on skis and snowshoes. Just when you think you are alone, a series of paw prints in the snow provide alluring signs of an animal that was recently in that same place. With practice, using a guide book, you will be able to identify a wide range of tracks and patterns. If you are still puzzled, ask for help from a friendly ranger at a visitor center.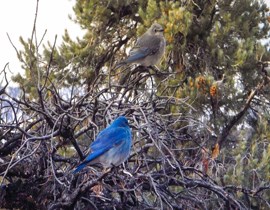 Spring
With the arrival of the spring season comes a new beginning. The gradually warming temperatures awaken rock squirrels, and other critters, from their long sleep reminding them to forage. Even though days in the valley may be hot, there is generally snow pack in the high elevations. With the gradual melting of snow, streams dance down the mountain. Diversity explodes. Bouquets of prickly-pear cacti, Indian paintbrush, and globe mallow begin to dot the desert with shades of yellow, pink, red, and orange.


Last updated: September 15, 2023