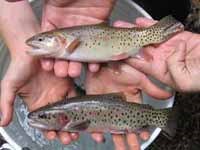 Native Fish

Bonneville Cutthroat Trout (Oncorhynchus clarki utah)
Bonneville Cutthroat Trout are found only in the Great Basin region, having evolved from other cutthroat trout species after the Bear River became a tributary of Lake Bonneville 30,000 years ago. This species can tolerate streams with high water fluctuations and poor water quality better than most other trout species.
Bonneville cutthroat trout are generally silver to golden in color with larger black spots concentrated toward the rear. It has distinctive orange/red slashes under the jaw. Bonneville cutthroat live 7-8 years. Because this species evolved in high elevation, cold water streams, it generally attains larger size than non-native trout species (rainbow, brook, and brown).
Please use catch and release techniques for this species.

Mottled Sculpin (Cottus bairdi)
Mottled sculpin live on the bottom of a stream, usually in the gravel. They grow up to six inches long and can live up to five years. They are distinctive with their long fins and chubby head. They eat aquatic insects, plant material, and even other sculpins, and are in turn eaten by other fish species.
Speckled Dace (Rhinichthys osculus)
Speckled dace are small fish, usually less than four inches long,only that live about three years. They are most active at night and are found on stream bottoms, preferring rocky areas. They feed on insects, algae, and zooplankton.
Redside Shiner (Richardonius balteatus)
Redside shiners have slivery scales across their bottoms, and during spawning season a red or pink stripe appears along their lateral line (down the length of the body). They are usually less than five inches long and can live up to five years. They are omnivorous, eating anything they can find, but usually insects and zooplankton.