Camping Outside the Park
The campgrounds in Great Basin National Park often fill on busy summer days, especially on weekends and holidays. Additional camping is available outside the park.
Public Lands
1.) Humbolt-Toiyabe National Forest

Ely Ranger District
(775) 289-3031

Ward Mountain, Timber Creek, East Creek and Berry Creek have designated campsites or are excellent areas for dispersed camping in undesignated sites. Most Forest Service lands are open to dispersed camping unless otherwise posted.
2.) Bureau of Land Management

Ely Ranger District
(775) 289-1800
Sacramento Pass offers a campground with several sites and pit toilets. Observe private property signs carefully. Most BLM land is open to dispersed camping unless otherwise posted.
3.) Cave Lake State Park

(775) 728-4460

Cave Lake is located near Ely, off US Hwy 50. Sites are available first-come first-served. Facilities include: bathrooms, showers, an RV dump station, water, and a boat ramp. No hookups.
4.) Nevada Dept. of Transportation Roadside Rest Area

Approximately 17 mile west of Great Basin National Park, on the south side of US Hwy 50, RVs may park overnight. Stay not to exceed 12 hours. No holding-tank dumping. No tent camping.
Private Campgrounds
1.) Whispering Elms Motel, Campground & RV Park
(775) 234-9900

Located in Baker, Nevada. Offers 25 full-service RV sites and a large grassy area for tents. Laundromat and showers available.
2.) The Border Inn

(775) 234-7300

Located 13 miles from Baker, Nevada, on NV Hwy 6 & 50. Offers 22 full-service RV sites and pull-through spaces. Showers available.
3.) Hidden Canyon Guest Ranch

(775) 234-7172

Located 15 miles south of Baker, Nevada. Offers campsites and showers. Reservations required.

4.) Ely KOA

(775) 289-3413

Located 60 miles west of Baker, Nevada. Offers campsites for tent and RVs with full hook-ups, scheduled activities, store and showers.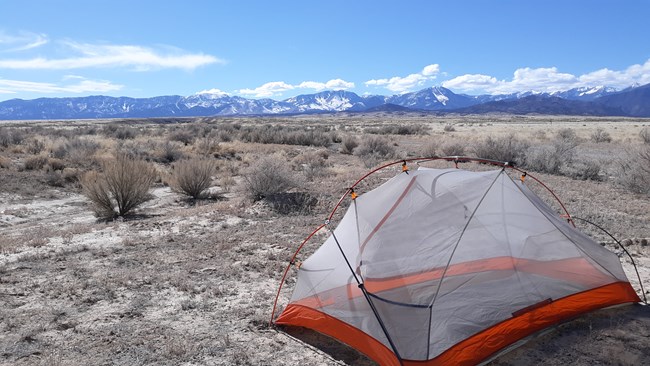 Dispersed Camping Near Great Basin National Park
It's All Yours... Literally!!!!
Welcome to the high-desert, and the wide open country of the Great Basin. In this vast un-peopled place you'll commune with coyotes, pronghorn and pygmy rabbits. You'll soak up a degree of silence that few places in the Lower 48 can offer. You'll experience a dome of stars made overwhelming by the neck-straining stretch of the horizons. You'll inhale the aroma of sage propelled on some of the cleanest air in the west. You'll discover trees which have experienced over a million sunsets, and otherworldly caverns shocking in form.

You may also discover, the campgrounds of Great Basin National Park…filled to capacity.
Camping opportunities abound, IF you come prepared
Don't despair if this happens to you, because it might, especially on the busy holiday weekends, or if you arrive at the park late on a summer day. All it means, for those prepared and provisioned with food, shelter and water (don't forget the water) is that you may need to step a bit out of your comfort zone and delve into one of America's truly great resources – multiple use public land. In this case and in this area we are referring mostly to land managed by the Bureau of Land Management (BLM).

Great Basin National Park has the luxury of occupying space amidst a virtual sea of public land, managed mostly by the BLM for multiple uses. Ranchers and sheep herders may buy permits to graze their livestock here. Small scale mining is not uncommon, and recreational opportunities abound, including such excursions as four wheeling (only on established roads), hunting and fishing (with the proper permit), hiking, and yes, camping.

There is no permitting, paperwork, or payment required for camping on BLM land. It's called dispersed camping, and all that's requested is a bit of self-reliance and adherence to some common sense regulations put in place to keep the land enjoyable to all and to ensure the safety and sustainability of this valuable natural resource.

If dispersed camping is something you are willing to experience, then we would encourage you taking the plunge. BLM land is public land after all. Step up and claim it, but treat it with respect. For specific regulations as well as helpful tips please call the Bureau of Land Management, Ely District Office at 775 289-1800 or go to their website https://www.blm.gov/office/ely-district-office.

Or if you find yourself without a place to pitch your tent or park your rv, check with a ranger at the Lehman Caves Visitor Center or Great Basin Visitor Center. We have helpful maps and advice to assist you with dispersed camping opportunities in the area.

See you soon, in the Back of Beyond.


Last updated: April 22, 2021