Bird Watching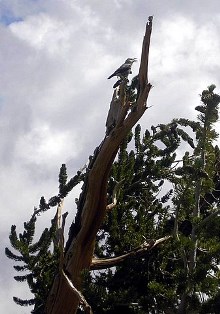 Many types of birds can be found in Great Basin National Park and the surrounding area. A large variety of birds can be seen in the many different habitats encountered between the town of Baker (5,280 feet elevation) and the end of the Scenic Drive (10,000 feet elevation). Many birds such as the Common Raven, Northern Flicker and the American Robin, can be found in more than one type of habitat.

Ask for a bird checklist at one of the visitor centers, which lists of all the birds found in Great Basin National Park. If you see any birds listed as "uncommon" or "not found" on the current checklist, please report it to a ranger!

The following is a listing of a few of the birds and some of the areas with easy access where they may be found.
Sagebrush Grasslands
On your drive up from Baker, in the sagebrush grasslands, you might see:
Killdeer
Long-billed Curlew
Golden Eagle
Northern Harrier
Common Raven
American Kestrel
Red-tailed Hawk
California Quail
Eurasian Chukar
Sage Grouse
Mourning Dove
Horned Lark
Scrub Jay
Black-billed Magpie
Western Kingbird
Barn Swallow
Loggerhead Shrike
Song Sparrow
Black-throated Sparrow
Cassin's Finch
European Starling
Red-winged Blackbird
Western Meadowlark
If you are lucky, you could also see birds such as ducks and other waterbirds flying overhead, moving from one pond to another. Some of these include:
Great Blue Heron
Canada Geese
Sandhill Crane
Mallard
Green-winged Teal
Northern Pintail
Northern Shoveler
Cinnamon Teal
During the winter, a lucky sighting could include a bald eagle on a telephone pole.
At dusk or dawn during the summer, stop and listen for the whinnying of a common snipe, the call of a great horned owl, or the "bull-bat" roar of a common nighthawk. Watch out for the "copper penney colored" eye of a common poor-will reflecting in your headlights - they often see the roadway as the perfect place for their habit of "flycatching" from the ground.
Pinyon-Juniper Woods
As you enter the pinyon-juniper woods and stop by the Lehman Caves Visitor Center, you may also start seeing:
Mountain Chickadee
Broad-tailed, Black-chinned, and Rufous Hummingbirds
Pinyon Jay
Mountain Bluebird
Solitary Vireo
Say's Phoebe
White-crowned Sparrow
At Baker Creek Campground, the mixture of sagebrush, pinyon-juniper, and stream-side plants brings in:
American Dipper
Mountain Chickadee
Yellow-rumped Warbler
Cassin's Finch
Black-chinned and Broad-trailed Hummingbird
Mountain Bluebird
Western Tanager
Black-headed Grosbeak
Ponderosa Pines
A walk through the Ponderosa pines along Lehman Creek, in Upper Lehman Creek Campground may reveal:
Violet-green Swallow
Red-naped Sapsucker
Downy and Hairy Woodpecker
Mountain Chickadee
Bushtit
White-breasted Nuthatch
House Wren
Warbling Vireo
Yellow-rumped Warbler
Black-headed Grosbeak
Chipping Sparrow
Green-tailed Towhee
Rufous-sided Towhee
Dark-eyed Junco
Brown-headed Cowbird
Alpine Aspin
At Wheeler Peak Campground, and along the Alpine Lake Loop, aspens and limber pines attract a variety of birds, including:
Clark's Nutcrackers
Stellar's Jays
Townsend's Solitaire
Mountain Chickadee
Bushtit
Yellow-rumped Warbler
Pine Siskin
Brown Creeper
Pygmy Nuthatch
Cooper's Hawk
On occasion, you may find Red Crossbills if you are lucky.

A hike to the small glacier takes you through the ancient bristlecone pine forest to an area where very little vegetation exists. In the vicinity of the glacier and the rock glacier below, one can usually find the "Black" form of the Rosy Finch, as well as Rock Wren, and the ubiquitous Raven.