Wildflower Viewing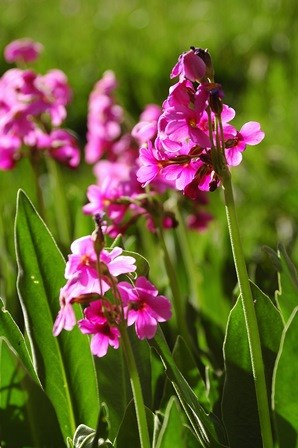 The diverse habitats found in Great Basin National Park give rise to hundreds of species of wildflowers. Many flowers are attention-grabbing and dazzling, with large blossoms and stunning colors. Others require a more observant, but well-rewarded, eye.

Generally, wildflowers are most abundant at lower elevations early in the season, and at higher elevations later, and wet years provide more flowers than dry. But regardless of precipitation or month, whether from the car or on foot, visitors of all ages and abilities can find wildflowers to enjoy.
Wheeler Peak Scenic Drive
Wheeler Peak Scenic Drive is often lined with wildflowers throughout the summer months. Early bloomers such as evening primrose and Desert Mallow are replaced by Golden Peas, paintbrush, and penstemon as the summer wears on. Prickly Poppys, with their showy white blossoms and thorn covered stems, are hard to miss throughout the season.

Island Forest Trail
This 1/4 mile accesssible loop trail at the end of the Wheeler Peak Scenic Drive offers a glimpse of fragile alpine wildflowers. At over 10,000 feet, flowers become lower to the ground, smaller, and harder to find. Look closely for Jeffrey's Shooting Stars, Crimson Columbine, Mountain Bluebells, and Parry's Primrose in damp meadows and along creeks.

Baker Creek Trail
Baker Creek Trail is sure to provide some of the finest variety of wildflowers . This trail, which climbs 1800 feet in elevation, weaves between lush riparian areas, semi-arid slopes, dense woodlands, and wet meadows. Flowers vary throughout the summer months, making each trip up the trail unique.

A hike in late May will begin with fields of big, bold, and brilliant gold Arrowleaf Balsamroot, then wind past rose bushes and through Manzanita, laden with tiny pink lanterns. Later months bring subtle Sego Lilies and vibrant paintbrush to the open areas, with White Bob Orchids, Yellow Monkey Flowers, clover, parsley, monkshood, and delicate Shooting Stars near the stream. Columbine, Yarrow, Fleabane, Blue-eyed Mary, Bluebells, Harebells, Prickly Pear, and Lupine in purple and gold all find their niche along the Baker Creek Loop.


Last updated: January 25, 2017