Speleothems (Cave Formations)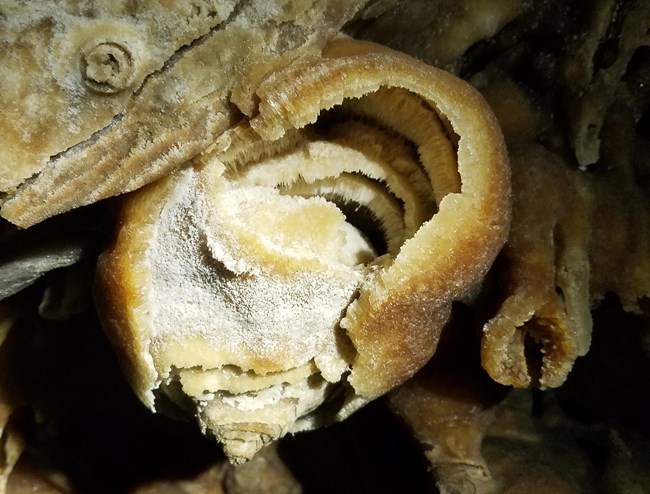 An Underground Gem
Lehman Caves is known for its highly decorated chambers. A tour of Lehman Caves allows you to experience some of the more common cave speleothems, as well as some rare speleothems that are seen in very few places on planet earth.
Speleothems
Many speleothems are found in Lehman Caves. Table 1 provides an overview.
Table 1. Selected speleothem types in wild caves (based on Hill and Forti 1997, Palmer 2007).
Type

Speleothem

Description

Pool deposit

Rimstone

Deposit of calcite around edges of cave pools

Shelfstone

Flat ledges of calcite that grow inward along the water surface from the shore

Folia

Shelf-like tiers of calcite

Cave rafts

Thin mineral deposits that crystallize on pool surfaces

Flowing & Dripping Water

Cave pearls

Calcite or aragonite coating tiny grains of sand under water drips

Flowstone

Calcite deposited where water runs down cave walls or across sloping floors

Stalactites

Formations hanging from ceilings or ledges; contain a hollow central tube through which water initially flows; often aligned along ceiling fractures

Soda Straws

Thin-walled tubes with nearly uniform diameter along the length hanging from ceiling or ledges

Stalagmites

Conical or cylindrical features that form where drops of falling water hit the cave floor

Columns

Calcite deposits formed when a stalactite and stalagmite grow together

Draperies

Curtain-like sheet of calcite formed by water flowing down an inclined cave ceiling; surface tension keeps the water next to the cave wall rather than dripping

Capillary Water

Helictites

Twisted speleothems formed by water that seeps in tiny amounts through internal canals

Anthodites

Long, quill-like spikes composed mainly of aragonite

Shields

Two parallel plates of calcite separated by a thin crack; Over 300 present in Lehman Caves

Welts

Outward growths from fractures in speleothems; resemble rudimentary shields

Bulbous Stalactites

Appear like turnips; The bulbous part of the stalactites may be welts covered by travertine

Evaporative

Coralloids/Cave Popcorn

Small balls that project outward from bedrock and other speleothems; most commonly found in windy areas

Frostwork

Delicate, white, needle-shaped aragonite crystals that branch in delicate clusters

Gypsum crust

Deposit of gypsum on floor, walls, or ceiling that ranges in thickness from 0.1 mm to several cm in Lehman Caves

Gypsum flower

Flower-like speleothem made of gypsum; in Lehman Caves small and weathered

Microbial

Moonmilk

White deposit of microscopic crystals; pasty when wet and powdery when dry
For more detailed information describing the formation of caves (speleogenesis), explore the
Formation of the Cave
webpage.
The Chemical Process
Degassing is the one main cause of calcite deposition. The carbon dioxide content of the groundwater entering the cave passage is about 250 times higher than that of the air. When the water contacts the air, it degasses just like a soda pop does when you open it. Without the carbon dioxide, the calcite cannot stay in solution. The chemical reactions reverses.
Ca+2 +2(HCO3-) (in solution) --> CO2(gas) + H20(water) + CaCo3 (calcite)
The water continues on, but it does not carry as much calcite in solution. Another major method for deposition of calcite is evaporation of the water it is dissolved in.

Either way, calcite is deposited. Depending on the shape the calcite takes, it may be called by different names. Travertine is one name for the calcite in the cave. Dripstone is a generic caver term that encompasses any cave decoration caused by dripping, splashing, or seeping water.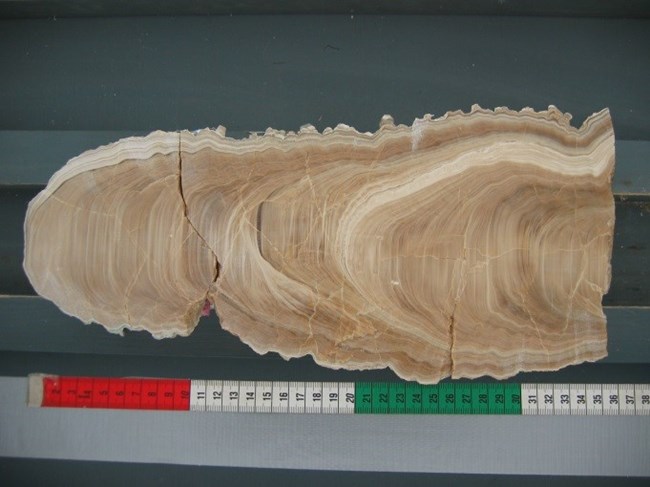 How Old are the Speleothems? How Fast do they Grow?
Some stalagmites in the cave have been aged with a Uranium-Thorium test. The oldest one is estimated to be 2.2 million years old (Lachniet and Crotty 2017)!
Soda straw stalactites that are growing on broken formations in Lehman Caves are mostly less than an inch to about four inches long. Most of these speleothems were broken between 1885 and 1922, or roughly a century ago. Keep in mind that because soda straws are hollow, they grow longer and at a faster rate than wider speleothems. The same amount of calcite may be deposited per year on other formations, but the change would not be as noticeable if it is spread over a greater surface area ( i.e. flowstone or large columns). Growth rates vary depending on the amount of calcite in solution and the drop rate. Size can be misleading. The largest column in the cave may be younger than a two-inch long soda straw. Conditions cave be very localized. Water can change the path it follows into the cave, so speleothems that are dry may someday be wet again. The amount of water dripping into Lehman Caves now does not seem to account for the large speleothems in rooms like the Gothic and Grand Palaces. Many speleothems now are dormant and probably grew in the past when the climate was wetter, possibly during the Ice Ages.
Last updated: July 28, 2020