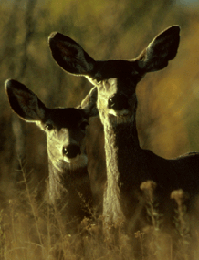 Looking out across the valleys of the Great Basin and its vast stretches of sagebrush and desert, one would hardly imagine that 70% of all North American mammals are found in this region. From the kangaroo rat, which can survive without ever drinking water, to the mountain lion that slips through the forest on silent paws, the variety of wildlife is astounding. Don't expect to observe all of these animals at once, as many are secretive and low in population density. Although, with a little luck, correct timing, and patience, a wide array of creatures may present themselves as you hike or drive across the area.

The Hunters
Mountain Lions (pumas, cougars, wildcats, catamounts, panthers, etc.) are generally 6-8 feet in length, weighing up to 250 lbs. These animals are able to drag 3 times their own weight and jump distances of 40 feet horizontally, 20 feet vertically, and drop from 60 feet and land running. Incredibly solitary, cougars are found together only when a mother has young. Although they are active at all times, expect to find them at dusk or dawn when they are hunting deer and elk, their favorite prey.
Coyotes are a highly adaptable species, found in many areas. This grey-red colored animal is dog-like in appearance, though easily identified as they run with their tails down. Travelling in search of food sometimes up to distances of 400 miles, the coyote cruises at a speed of 25-30 mph. Coyotes eat nearly anything, from the meat of small mammals to insects and fruit. At dawn or dusk the coyote can be heard calling in a series of yelps followed by a long howl.
Bobcats, which derive their name from their short, 3-6 inch 'bobbed' tail, are tawny brown and mottled with stripes and spots. With weights varying from 14-68 lbs, this most common North American wildcat generally hunts snowshoe hares and cottontail rabbits.
Badgers are a formidable, if relatively small, presence across the Great Basin. Its flat, wide body is light brown in color, with white and black stripes across the head. They have a taste for rattlesnakes and seem to be unaffected by the venom except when bitten on the nose. Though the badgers only weigh up to 25 lbs, most creatures seem to strictly avoid them for a skunk-like odor they carry and their large claws. If attacked, the badger will attempt to get to his burrow and block himself inside. An excellent digger, he can instantly build a new burrow at a rate faster than a man could with a shovel. Badgers are valued in agricultural areas for their efficient pest control as they feed on rodents.