Lehman Caves Dimensions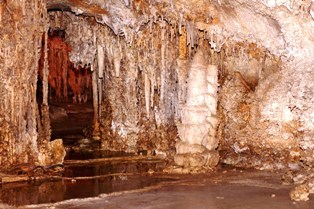 Lehman Caves Depth and Measurement Statistics
Length
Entire Cave Length: 2 miles of passageways making Lehman Caves the longest known cave in the State of Nevada.
90 Minute Tour Length: .6 miles
60 Minute Tour Length: .4 miles
Stairs encountered along either tour: 70 stairs
Cave Depth Beneath the Surface
Gothic Palace: 93.5 feet
Music Room: 125 feet
Lodge Room: 151 feet
Inscription Room: 194 feet
Cypress Swamp: 167 feet
Grand Palace: 167 feet
Room Sizes
Biggest Room by Area: Talus Room- 90 feet wide, 376 feet long, for a surface area of 21,511 square feet (1/2 acre).
Tallest Room: Talus Room- 113 feet from floor to ceiling.
Second Tallest Room: Sunken Gardens- 32 feet from floor to ceiling.
Tallest Room Currently on Tour Route: Music Room, at a height of 51 feet (third tallest room in the cave).
All data provided by the Southern Nevada Grotto of the National Speleological Society.

Last updated: September 1, 2021