Faults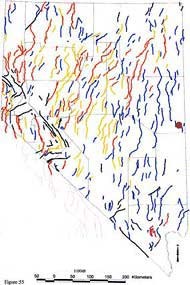 Nevada is one of the most seismically active states in the country, ranking third after California and Alaska. To blame are the state's many faults, found at the base of almost every mountain range. The basin and range topography of the Great Basin is caused by movement along these faults. As these mountain ranges continue to grow through fault-block activity, earthquakes continue to occur.
What is a Fault?
A fault is simply a fracture in the earth's crust. Movement along faults displace the rock layers on either side. The mountains in much of the Great Basin are large blocks of rock that have been uplifted and tilted by normal activity along fault lines. The basins between the mountains, on the opposite sides of the faults, have slipped downward, and have been filled in and leveled by erosion of the mountains above. Geologists refer to these landforms as "fault-block mountains."
Earthquake Activity
Most earthquake activity occurs along the eastern Sierra Nevada mountains, on the Nevada's western border. The most powerful earthquake recorded in the state was a 7.6 magnitude quake that occured near Winnemucca in 1915.
While earthquakes don't occur at any regular interval, historically the frequency of an earthquake of magnitude 6 or higher has been one every 10 years, and for magnitude 7 or higher, one every 27 years.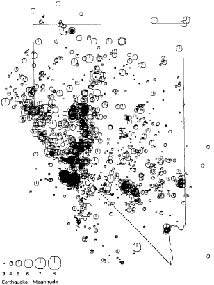 More Information
You can find maps of both recent and historic earthquake activity in Nevada at the
U.S. Geological Survey's website
.
Last updated: April 24, 2021