BioBlitz Details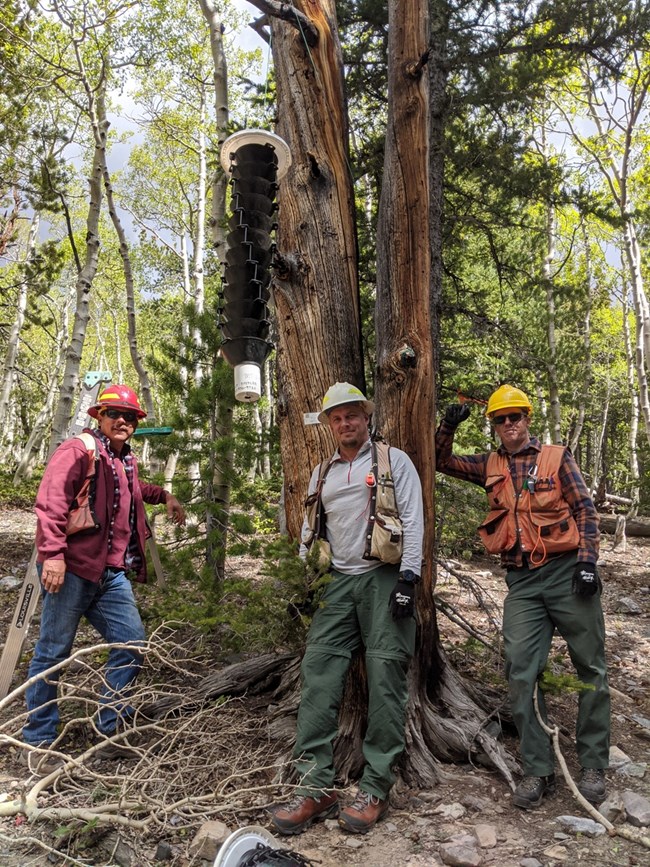 Welcome to the 2022 Forest Health BioBlitz at Great Basin National Park!
We look forward to exploring various elements of forest health, including insects, pathogens, and climate effects during this BioBlitz. We have a variety of experts who will be presenting information and leading field trips.

WEDNESDAY, JUNE 22 All times PDT
12-12:30 pm Registration at Baker Hall
12:30-1 pm Welcome and orientation
1 pm-5 pm Forest Health workshop at Baker Hall
7 pm Grey Cliffs tree walk8:30 pm Astronomy program

THURSDAY, JUNE 23
Field trips-half-day and all-day
8:30 pm Astronomy program

FRIDAY, JUNE 24
Morning field trips/Baker Hall microscope opportunity/Kids program
12 pm Catered lunch for participants
1 pm Preliminary results/Wrap-up
1:30 pm Clean up/explore Park more/depart

We'll be using iNaturalist to record our findings:
2022 Great Basin National Park Bioblitz- Forest Health · iNaturalist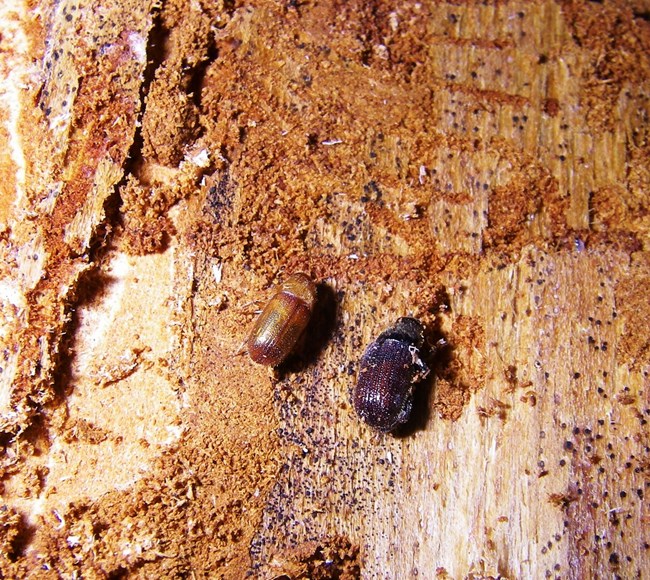 More Details for the Forest Health BioBlitz
To register, please fill out this short form.
This will help us with planning.
Free camping available at Grey Cliffs Campground for registered participants; Other accommodations can be found at
Discover Great Basin
.
WEDNESDAY AFTERNOON TALKS 1-5 pm (PDT time)
Introduction to Trees of the Snake Range
by David Charlet
The Snake Range contains numerous evergreen and deciduous trees. All are restricted by elevational and environmental constraints. While some species are widespread, like piñon pine and quaking aspen, others are found in very small patches, such as ponderosa pine and mountain maple.
Historic Vegetation and Shifting baseline
by Bryan Hamilton
Shifting baseline syndrome describes a gradual change in our accepted norms and expectations for the environment across generations. Our tolerance for environmental degradation increases and our expectations for the natural world are lowered. One example of shifting baselines is the increase in conifers in the vast sagebrush ocean of the Great Basin. Journal entries, place names, wildlife observations, and livestock stocking records show a Great Basin far more open with less trees than today. We will review and discuss photo evidence of increase in pinon and juniper and subsequent decrease in sagebrush and meadows in the Snake Range and Great Basin National Park.
USDA Forest Health Protection Overview & Tools
by Daniel Ott
This presentation describes the USDA Forest Service, Forest Health Protection (FHP) program of work and how we interact with our diverse cooperators to promote forest health objectives. FHP provides technical assistance with forest health issues including insects, pathogens, and abiotic disturbance agents on federal, tribal, and state lands and work with state land management agencies to provide services to private landowners.
Common Insect Tree Pests of Great Basin National Park
by Ryan Davis
This presentation will cover a few of the common insect pests killing or injuring trees in Great Basin National Park. We will cover basic biology and common management strategies used for insect groups such as bark beetles, moth pests, sawflies and scales.
Bark Beetles and High-elevation Pines
by Barbara Bentz
Bark beetles attack many species, including high-elevation pines. Find out more about their life cycle and how they affect limber and bristlecone pines.
White pine blister rust: Identification and the Proactive Management Strategy
by Anna Schoettle
White pine blister rust is a non-native disease that threatens Great Basin bristlecone pines and limber pines in Great Basin National Park; to our knowledge, the disease is not yet in the park. We will discuss how to identify the disease on pines and the proactive measures the Park is taking in response to this threat.
Invasive Forest Pest Surveys in Nevada including spongy moth and exotic woodborers
by Jeff Knight
The Nevada Department of Agriculture conducts regular entomologic surveys across the state. Find out details of these surveys and what is done when invasive species are found.
What role does black stain root disease play in widespread piñon pine mortality?
by Patrick Bennett
Piñon pine forests across the southwestern U.S. have experienced widespread mortality caused by multiple interacting stressors including drought, bark beetles, and pathogens. This talk will describe what is known about the current extent and severity of piñon pine mortality and propose a conceptual framework for understanding the role of black stain root disease as a possible contributing factor.
Monitoring Bristlecone Pine Communities at Great Basin NP and throughout the Pacific West
by Jeff Galvin
An overview of the NPS Inventory and Monitoring Network monitoring bristlecone pine communities at Great Basin NP and throughout the Pacifica West. Learn about the NPS Inventory and Monitoring Program and their efforts to quantify long-term changes and detect current threats to these ancient forests.
Bahsahwahbee, the Sacred Water Valley
by Delaine Spilsbury
Explore the swamp cedars in Spring Valley, Nevada and what this area means to local tribes.
WEDNESDAY EVENING
7 pm Grey Cliffs Evening Stroll
Meet at the Grey Cliffs Campground entrance. We'll walk through the Grey Cliffs area exploring the diversity of trees in this area. Easy walking. (David Charlet et al.)
8:30 pm Astronomy Program
at Astronomy Amphitheater near Lehman Caves Visitor Center (arrive early to ensure parking)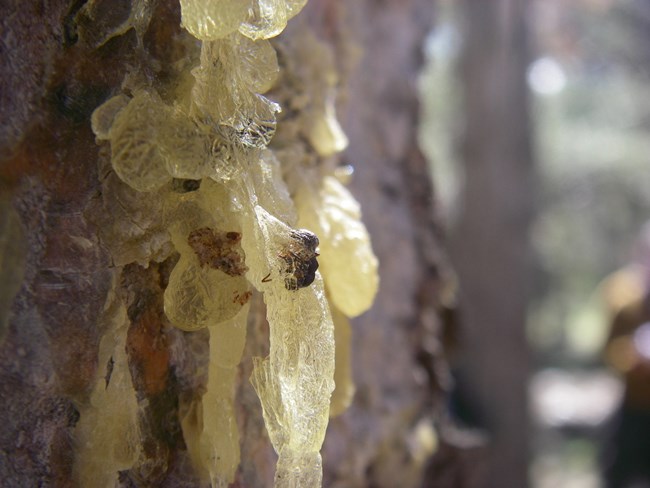 THURSDAY FIELD TRIPS
1.
Spring Valley Swamp Cedars. Morning field trip
"
Bahsahwahbee, the Sacred Water Valley
" Half-day field trip to Spring Valley (on the west side of Great Basin National Park) to see and learn about the swamp cedars, Rocky Mountain junipers, that grow on the valley bottom. (Delaine Spilsbury et al.)
2.
Wheeler Peak Campground Area. Morning field trip (9 am) & Afternoon field trip (1 pm) (same trip repeated twice).
This field trip showcases monitoring and mitigation techniques.
a.
Forest Health Entomology.
Discuss single-tree management options to protect trees from bark beetle and other insect pests using insecticides, repellents, and other methods. Observe and discuss the use of bark beetle repellents verbenone and MCH at Wheeler Pk. Campground. Discuss the primary native and invasive insect agents affecting limber pine, spruce, subalpine fir, Douglas-fir and aspen and their management. Explore common trapping methods used in forest health for evaluating insect populations. (Ryan Davis, Dan Ott)
b.
The How's and Why's of Monitoring the Ancient Bristlecone Pine Forests.
The Mojave Desert Network will demonstrate their monitoring plot. Learn about collecting DBH, tree height, and tree health metrics. (Joe Ladd, Jeff Galvin, et al.)
3.
Alpine Lakes Loop (Wheeler Peak Campground Area).
Morning field trip (9 am – 12 pm) & Afternoon field trip (1 – 4 pm) (same trip repeated twice, aiming for a limit of 20 participants per session).
Trees, pathogens, and co-evolutionary biology: forest pathogens along the Alpine Lakes loop trail
In most forest systems most of the time, trees coexist with pathogens. Co-evolutionary biology provides a framework for the dynamic interactions between trees and pathogens where there is stable coexistence, and also where the dynamic equilibrium is disrupted by anthropogenic influences. We will hike the Alpine Lakes loop trail to look for and discuss forest pathogens that may be present in the subalpine forests along the trail, including dwarf mistletoe parasitic plant species, fungal rust pathogens, and blue stain fungi that are carried by bark beetles and colonize the phloem and sapwood hastening tree mortality. We'll discuss co-evolutionary host-pathogen dynamics as we look for signs and symptoms of forest pathogens along the loop trail. The trail covers 2.7 miles (4.4 km) and an elevation increase of 440 ft (134 m) at high elevation. The field trip is expected to take approximately 3 hours with ample time for discussions. (Maria Newcomb et al.)
4.
Lexington Arch. All-day field trip.
Good Fire: The benefits of fire in Great Basin ecosystems
Field trip to Lexington Canyon and Lexington Arch. We will explore and discuss the impacts and recovery from the 2013 lightning ignited Black Fire. Please be prepared for full day in the field with food, water and good hiking boots. There is no cell service in the canyon and limited shade. Drive time is approximately 45 minutes one-way from Baker, NV on paved and unmaintained dirt roads. Hike is about 6.5 miles round trip with ~1400 ft. elevation gain/loss. A high clearance, 2WD vehicle is recommended. (Meg Horner)
5.
Baker/Lehman Creek Area. Half-day field trip.
Wait? What? This wasn't always a forest?
It's easy to see national parks as static and unchanging. But the world is always moving and slower, gradual changes often go unnoticed. Over time these changes may become accepted as the status quo, the way things have always been. This phenomenon is called shifting baseline syndrome. Shifting baseline syndrome describes a gradual change in our accepted norms and expectations for the environment across generations, our tolerance for environmental degradation increases and our expectations for the natural world are lowered. For example, bison are absent from 98% of their historic range. Yet bison recovery is often viewed as a conservation success story. Shifting baselines affect our perception and acceptance of the state of the natural world. One example is in the vast sagebrush ocean of the Great Basin. For this activity we will discuss and view the evidence of historic vegetation change in the great basin, with a focus on sagebrush plant communities, discuss the drivers and consequences of vegetation change, look at old versus young pinon juniper stands, and review and retake historic photos. Hikes will be short and easy. (Bryan Hamilton)
THURSDAY EVENING
8:30 pm Astronomy Program
at Astronomy Amphitheater near Lehman Caves Visitor Center (arrive early to ensure parking)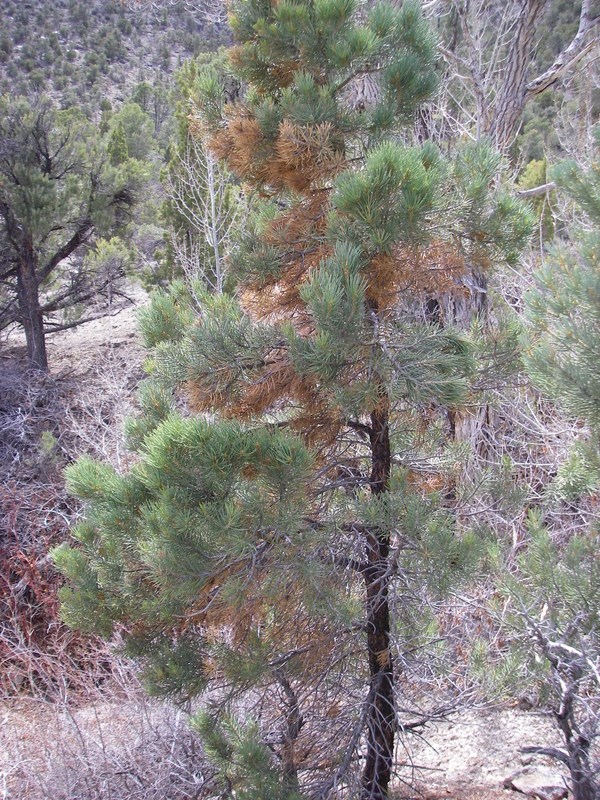 FRIDAY MORNING ACTIVITIES
1.
Lehman Caves Picnic Area, 8:30-11:30 am.
Pinyon-juniper woodlands in the Great Basin
Pinyon-juniper woodlands are estimated to be the third largest vegetation type in the United States and are prominent in the Great Basin. We'll visit a pinyon-juniper stand in the vicinity of Lehman Caves Picnic Area to discuss pinyon-juniper forest health and drivers of change along with the need for an adaptive management approach. Pinyon-juniper woodlands provide important ecosystem services, wildlife habitat, contributions to regional carbon budgets, and pinyon pine seeds are an important Indigenous traditional food. Currently in the Great Basin there are areas where pinyon-juniper woodlands are replacing valued sagebrush and grassland habitats at the same time that extensive pinyon-juniper areas are being lost due to management, wildfires, drought and other disturbances. We'll discuss a management framework that promotes resiliency and promotes simultaneous restoration and cutting in strategically selected areas. (Maria Newcomb, Daniel Ott, Patrick Bennett, et al.)
2.
Baker Hall, 9-12 pm (open house style, come when you want for as long as you want)
Close-up Look at Beetles and More
Join entomologists to get a close up look at bark beetles and more (Jeff Knight et al.)
3.
Kids/Family Programs, at 9 am and 10:30 am. "Every Tree for Itself"
Learn more about trees and how they relate to us in this interactive program.
GUEST SPEAKERS (in alphabetical order)

Patrick Bennett is a research plant pathologist at the U.S. Forest Service Rocky Mountain Research Station in Moscow, Idaho. He has a Ph.D. in Botany and Plant Pathology from Oregon State University, and a bachelor's degree in Biology (Ecology) from Humboldt State University. His graduate studies and postdoctoral research were focused on fungal pathogens in Douglas-fir forests. He enjoys traveling, backpacking, and gardening in his free time.

Barbara Bentz is Research Entomologist with the USDA Forest Service, Rocky Mountain Research Station located in Logan, UT. For more than 30 years, Barbara's research has focused on multiple aspects of native bark beetle population biology, ecology, and management, including climate effects on population outbreaks.

David Charlet is an inbred academic, earning his three biology degrees at the University of Nevada, Reno. He has been a Professor at the College of Southern Nevada for the past 25 years where his research is acutely focused on the natural history of the Great Basin and Mojave Desert. Dr. Charlet has worked in all but 4 of Nevada's 314 named mountain ranges. He mapped these ranges and the conifers in them in two references books on Nevada. David relentlessly brings his research experience into his classroom lectures.

Ryan Davis is an Entomologist with Forest Health Protection in Ogden Utah. His early education was focused on Forestry at Penn State and later studied Forestry and Entomology at Utah State University. Ryan spent 15 years with USU Extension as an Entomologist assisting Utahn's with their pest identification and management needs ranging from bed bugs to ornamental pests to forest pests. Ryan's personal interests include outdoor recreation, bluegrass music, homebrewing, and spending time with his family.

Jeff Galvin is the Vegetation Ecologist for the Mojave Desert Network of the National Park Service.

Bryan Hamilton is a wildlife biologist at Great Basin National Park in Baker, Nevada. His interests include conservation biology, community ecology, herpetology, bats, bighorn sheep, landscape restoration, and rattlesnakes. Bryan has worked on sagebrush restoration and fire management for over 20 years.

Meg Horner is a biologist focusing on vegetation at Great Basin National Park. She oversees various projects and has been at the park for over 15 years.

Joe Ladd leads field crews for the Mojave Desert Network Inventory and Monitoring program.

Maria Newcomb is a Plant Pathologist with Forest Health Protection (FHP) based out of the Ogden Field Office. Her graduate work was on white pine blister rust at the University of Montana and the University of Wisconsin Plant Pathology Department. Her post-doctoral studies were on new virulent international races of wheat stem rust before she circled back to forest systems with FHP.

Daniel Ott works at Forest Health Protection as an Entomologist. He has degrees in Forestry from Utah State University and Forest Entomology from UNBC and Oregon State University where he focused on bark beetles and host tree defenses. In his free time he enjoys many forms of outdoor recreation including snowboarding and mountaineering in the winter and whitewater rafting and hiking in the summer.

Anna W. Schoettle --- Anna is a research scientist with the USDA Forest Service in Fort Collins, CO. Her research focuses on developing the science foundation for conservation and restoration strategies for high-elevation pines threatened by white pine blister rust and climate change. She has pioneered proactive approaches to increase the resilience of these forests before rust invasion so that future impacts are reduced upon invasion.

Delaine Spilsbury is a Native Great Basin Shoshone Elder, Retired Engineering Designer, Now promotes and sells Authentic American Indian Jewelry & Crafts.
Last updated: June 21, 2022