Lehman Aqueduct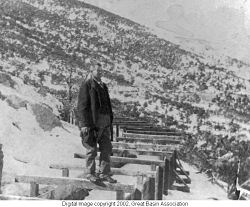 In the 1880s, Absalom Lehman, discover and early developer of Lehman Caves, built an irrigation ditch that extended two miles from Lehman Creek, near the Lower Lehman Campground, to the Lehman Orchard. The orchard contained over 100 fruit trees, and they could not thrive in the desert environment without irrigation. Lehman dug a narrow ditch, following the countours of the hillside, to bring water from a spring on Lehman Creek to a small resevoir above the orchard.
A portion of the aqueduct has been reconstructed, and is visible on the Mountain View Nature Trail, located next to the Lehman Caves Visitor Center.
The aqeduct was placed on the National Register of Historic Places in 1975 because of its significance as a representation of early agricultural irrigation efforts in Snake Valley.
Last updated: February 28, 2015