Early Development of Lehman Caves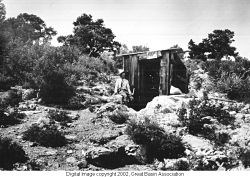 Early Development
Word of the cave's discovery spread far and wide, and by August 1885 all the major portions of the cave had been entered and development had begun, as Absalom Lehman realized the potential of his find.
Some of the first projects involved breaking paths into unexlpored areas with sledgehammers. Ropes and ladders were assembled throughout the cave to assist with navigation. Approximately 800 people toured the cave before September of 1885, with hundreds of visitors every year thereafter. Most were personally guided by Absalom himself.
Wagonloads of cave formations appeared at the state fair in Reno, and newpapers continued to spread the word about the new cave in eastern Nevada. In order to devote more time to the cave, Lehman sold his ranch so he could move to a new location next to the cave entrance. But he died in 1891, before making his dream a reality.
The Quiet Years
After Lehman's death, very little is recorded about Lehman Caves for several decades. His property, which was never legally filed upon, was sold and resold several times. In 1909 a forest reserve, embracing much of the Snake Range, was created by federal proclamation. In 1912 the caves and lands surrounding Lehman's old homestead, which had always been federally owned, were added to the reserve that became known as the Humboldt National Forest. A sign was posted advising all visitors of federal laws prohibiting the destruction of natural beauties, but supervison was non-existent.
After World War I, automobile travel increased, and the construction of a new highway (Hwy 50) near Lehman Caves renewed interest in the area. The attention prompted C.C. Roak, the Grand Central Highway Association Director from Tonopah, and Nevada Senator Taskie Odie to seek National Monument status for the caves.
Last updated: February 28, 2015