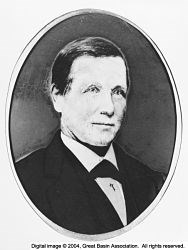 Absalom S. (Shirk?) Lehman was born on January 6, 1827, the second child of Abraham and Catherine Lehman of Chambersburg, Pennsylvania. When Ab was 4, his family moved to Canal Winchester, Ohio, a few miles north of Columbus. According to the family geneology, the trip was made in a one horse covered wagon on which the younger children rode. Ab, his parents and older sister walked the entire route, much of the time through heavy snow.
By 1849 Ab, then 22, was headed farther west in search of gold. After a seemingly unsuccessful venture in California, he boarded ship for Australia hoping to strike it rich mining there. The down-under land proved prosperous. Lehman found a gold mine in his back yard and established a number of wool stores. His Australian marriage to Mary Taylor of England produced two daughters, Lucy and Martha, both born in Victoria. After the deaths of Mary and Martha, Ab returned to California in 1861 with Lucy. He mined for a time there with his brother Jacob, with whom he left Lucy when he moved on.
Ab's next adventure was to take him to Snake Valley, Nevada, where he turned from mining to ranching. Sometime between 1866 and 1869 he first settled on Weaver Creek, a few miles north of the caves which now bear his name. There he "lived the first summer under a pine tree with Indians for neighbors." Little is known of Ab's operations on Weaver Creek, nor do we know exactly when he relocated on the present Lehman Creek. We do know that he certified in 1887 that he had used Lehman Creek waters continuously since 1869. In 1869 he returned to Ohio, married Olive Smith (he was 42, she was 21), and was back in Nevada by the fall of 1870.
After being in Nevada several months, Olive wrote home and said she hadn't seen another white woman since arriving. As if in response, Ab's brother Ben arrived soon after with his wife Mary and settled at the site of present day Baker. Another relative, Sam D. Smith, Olive's brother, also moved the valley about this time.