Things To Do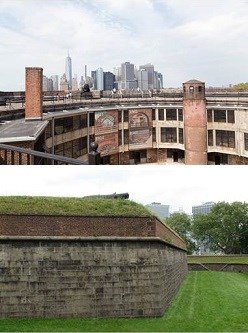 Governors Island was one of the longest continually operated military bases in the country, operated for two centuries, by the U.S. Army and later the U.S. Coast Guard until its closure in 1996.


Guided Tours - Free

:
Ranger-guided tours of are offered first-come, first served. Groups larger than 15 people are required to call ahead at least 14 days in advance at (212)825-3054
There is limit on amount of participants for Castle Williams tour
Castle Williams
Explore the many chapters of the story that this early 1800s coastal fortification holds in its walls. Contrast the past with the present and future of Governors island with a spectacular view of New York Harbor from the roof of the castle.
Castle Williams is currently open Monday through Friday from 10AM to 4:30PM and Saturday and Sunday from 10AM to 5PM.
Castle WIlliams guided tours are currently scheduled for 11:30, 1:30 and 3:30 on a first come first serve basis.
35-45 Minutes
Tour will be limited to 26 participants
Tour requires ability to climb three flights of stairs
Roof access subject to weather conditions and wildlife activity.
Fort Jay
Take a short walk with a ranger in and around the first fortification built on Governors Island, and explore its evolution through time as a defensive structure, a muntions storage, a barracks, and a home for families of the armed services.
Fort Jay is currently open Monday through Friday from 10AM to 4:30PM and Saturday and Sunday from 10AM to 5PM.
Ranger Fort Talks on Friday, Saturday and Sunday at 12:30 and 2:30
25-45 minutes
easy walking, ADA accessible terrain
Self-Guided - Free:
Both forts are open
10 am-4:30 pm on weekdays
&
10 am-5 pm on weekends
Castle Williams - A promenade (view of NYC), 1st floor casemates, our passport stamp, junior ranger program, and exhibits.


*Access to the 2nd-3rd floor casemates & rooftop (Rodman gun, view of NYC) are by GUIDED TOURS only, note you must be able to climb 3 flights of steps*

Fort Jay - A dry moat, subterranean magazine, ravelin & bastions (5 Rodman guns, view of NYC), porches (no interior access of the four barracks), and exhibits.
---
America's National Parks Gift Shop and Bookstore

Located in Castle Williams. Open Saturday and Sunday, hours limited.



Search Filters
By Park
By State/Territory
By Event Type


Last updated: September 1, 2019