2010 Special Events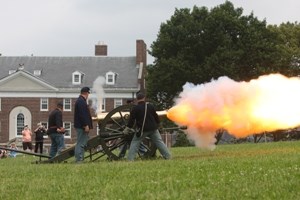 Open House New York - Oct. 9-10, 2010
openhousenewyork hosts year-round educational programs celebrating New York City's built-environment, culminating in America's largest architecture and design event, the Annual openhousenewyork weekend.
Governors Island National Monument will be hosting special programs on this last weekend of the season. Please see below for details.
Click on the link below to find more openhousenewyork weekend activities in all five boroughs of New York City.
http://www.ohny.org/
Autumn Bird Census on Governors Island -With Volunteer In Park Annie Barry, a public volunteer service program

When: Saturday, October 9, 2010

Where: Meet at the top of the hill at Soisson's Dock

Join Annie on a search for warblers, kinglets, thrushes, vireos and other migrating birds as they pass through New York Harbor. We'll also count summer lingerers and year-round residents. Your participation will help the National Park Service gather census data on the birds of Governors Island. Binoculars are not necessary, but if you'd like, you may bring your own binoculars. Meet at the top of the hill at Soission's Dock at 10:30.
Memoirs of a Governors Island Resident
Take a walk down memory lane with VIP and former United States Coast Guard resident Steve de Carteret for a 45 - 60 minute walking tour which will explore the history and small town life enjoyed by Governors Island families.
When: Saturday and Sunday, October 10th & 11th at 10:25, 12:25 and 2:25.
Where: Meet at the top of the hill at Soisson's Dock.
Please Note: These programs are based on the availability of the Volunteers. Please call the park at 212-825-3045 or ask a Park Ranger if the program will be offered on the day of your visit.
Past Events:
Army Heritage Day, Saturday, June 19
Spend June 19th at Governors Island National Monument and enjoy a day of history and song at our annual Army Heritage Day Celebration. Join National Park Service Rangers, the 319th US Army Band, living historians, and The Melissa Kate Project for a day of family friendly programming and a tribute to the US Army.
The Melissa Kate Project, an international sultry cabaret blues band, performs classic Motown, R&B,popular hits, and original material for servicemen and women stationed across the globe. Backed by a roster of superior musical talent, Melissa Kate's soulful music has something for everyone. For more information, please visit www.MelissaKate.net
Participating Living History Groups:

Colonel Albert Pawling's Levies
The 119th New York Volunteers
The Long Island Writers' Guild Returns to Governors Island, Sunday, July 11
Spend the afternoon of July 11 in the Commanding Officer's Quarters with members of the Long Island Writers' Guild for a public reading of original works. Stop by anytime from 1PM - 4PM.
Topics will explore the relationship between Long Island and New York City. Some of these works are found in the Guild's anthology - 2001: A Long Island Odyssey.
Do you write poetry, prose, fiction or non-fiction?
Consider sharing your work, there will be an open mic on a time available basis.
Please Note: All work will need to be appropriate for a family audience.
Please e-mail your submissions to Dennis Kotch at e-mail us
Civil War Weekend - August 7,8
The National Park Service, 119th New York Volunteers, The GawdAwful Mess Battery G of the First Pennsylvania Light Artillery, The Governors Island Music School and Historical Balladeer Linda Russell will provide family friendly activities, living history demonstrations, music and other programs designed to introduce you to the men and women of the Governors Island Garrison during the summer of 1863.
Last updated: March 31, 2012