Ranger Erin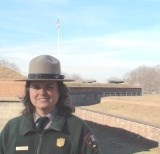 April 16th, 2010
"Change Is Constant"
There is one thing true about the life of a seasonal U.S. National Park Ranger … change is constant. It seems like yesterday when I introduced myself, and talked of my excitement here. Now, I am writing about another exciting thing. I have taken a summer seasonal job at Mount Rainier National Park (MORA), and today is my last day at Governors Island NM (GOIS).
It has been fun to be included in so many new career opportunities here. I have helped plan upcoming exhibits in Castle Williams, and new Long Range Interpretive Plans for the park. I have been introduced to New and Social Media (Twitter and Flickr). I have trained in Civil War manual of arms and musket firing. All of this has happened in such a jam-packed winter season. I want to thank the hard working ranger staff here at GOIS. I leave here very appreciative. I am very happy to have been here, worked with the permanent staff, and with seasonal rangers like Noah and Brent. I will keep in touch; probably via Facebook. I am also very proud to leave behind the Governors Island Flickr page, the "Roll Over" series of Interpretive Photos, and a new childrens' workbook about the Fort Jay statue.
I will bring many of the new skills I have learned and been introduced to with me to Mount Rainier. It is always hard to pick up and move again, and one of these days I will land in a permanent fashion. One day, I would love to own more than can fit in my car, and have a pet, no offense to my bonsai tree, but you don't fetch. But, it is a great way to hit the reset button, meet new people, and see all parts of this amazing country. The only problem is that every time an interpretive park ranger goes to a new place they have to learn it ALL over again. Every animal (elk), every bird (varied thrush), every kind of tree (mountain hemlock) and flower (pasque flower), all of the rocks (Vishnu Schist) and geology, the place names (Plateau Point) and all the history (Jonathan Williams). I don't have to do that with Mount Rainier because I am returning, but think about all that work the next time you speak with a park ranger.
Thanks again.
Sincerely,
Ranger Erin
Park Ranger
Governors Island NM
April 9, 2010
"They Call Me Private Erin"
After more than three months working for Governors Island National Monument, I am enjoying the feel of spring here. The horse chestnut tree leaves seem to be twice their size each day, the Canada Geese have paired up and are defending their territory, and Brent and I have been enlisted as privates in the Union Army.
Yesterday, we were issued our uniforms (wool trousers with suspenders, white cotton blouse, wool jacket and waste belt, and cap) and brogans (leather shoes). We also were assigned tarred haversack, canteen, cartridge box with sling, percussion cap box. It was fun to put it all on and very scratchy. I felt like I was wearing a Brillo pad. Lastly, we were issued our 1861 Springfield Muskets, made at the Springfield Armory, before heading to the parade ground in Fort Jay for drill.
Brent and I lined up and received instruction. Drill Sergeant Charlie belted out a "Left Face" and which way did the former Marine turn? …. Right. How embarrassing. So, we went through some facing movements and then some weapons manual … Order Arms, Trail Arms, Right Shoulder, and Carry Arms. We caught on pretty quickly. For me, the movements and commands weren't too different from the Marine Corps drill I did now more than ten years ago. We practiced in the afternoon sun. The high reached 81 degrees, thankfully ten degrees less than the day before. It was fun to drill again, something that I truly enjoyed in the Marines. I loved the perfection of it… the teamwork and discipline.
The facing movements and the weapons manual all led up to loading and firing of the musket. We mirrored Charlie's nine movements after the initial command "Load in Nine Times," and repeated. It felt good.
1. Handle Cartridge
2. Tear Cartridge
3. Charge Cartridge
4. Draw Rammer
5. Ram Cartridge
6. Return Rammer
7. Prime
8. Ready
9. Aim, Fire
After practicing, we retreated from the summer temps back inside to take off the wool jacket, and get supplies for making our own cartridges. We sat on the porch of the old officers' quarters, and handmade 26 cartridges to fire the next day. We felt confident we were becoming good privates in the unit… totaling three. Moral was high. We know we are living a much easier life of a Civil War soldier. And, we are both looking forward to firing our weapons.
March 19th, 2010
"Finally … "
For nearly five years the world was at war with the Axis powers. Upon hearing the news of the attack on Pearl Harbor men went to their local recruiting stations in droves to enlist. Governors Island was the induction center for New York City in the early years of the war. By 1942, American soldiers and Marines are engaged in battle on two fronts across two oceans. For America, the war trudges on for two more years before the famous Normandy beach landings. Some of initial planning for D-Day was done from Governors Island before the First Army HQ was transferred to Bristol, England to begin preparing for the coming invasion.
Like most Americans I am familiar with much of what happened from the invasion on to Germany's surrender. My grandmother lied about her age and tried to become of WAC (Women's Army Corps). She already had her pilot's license, and she wanted to serve her country. The Army figured out her lie, but the American Red Cross didn't. She ended up in France and Germany during the war, and returned with some adventurous stories containing close calls and love affairs.
No matter what I thought I knew about the war in Europe, I learned much more while watching the HBO series Band of Brothers in the fall of 2001. I have watched my fair share of military movies and documentaries, but I had never watched one so well done. I found myself attached to the characters of Easy Company, especially their CO, Richard Winters, played perfectly by the actor Damien Lewis. In 2004, I photographed a military event at Bunker Hill Monument in Boston. Many people were star gazing at a handful of senators also attending, but I noticed an elderly humble looking man in the crowd. I knew I had seen him before, not in person, but on my TV, and from Band of Brothers. The face I was looking at was one of the older men interviewed, and shown. I introduced myself, and asked him if he was a member of Easy Company, and he confirmed my suspicion. We talked for a few minutes, and took a couple pictures together. Mr. Lesniewski handed me his business card and asked for a copy of the photos. I keep the card next to the DVD's of the movie. My only complaint about the series had been that the complete focus of such an amazing series on World War II had entirely been on the Army, and having been in the Marine Corps, I wanted their story told too.
Well, nearly ten years have gone by since the first series, and my wish, and many that of many others have come true with the same creative team from Band of Brothers. The formula is a little different, but amazing attention to detail and respect for the Marines' stories are still there. Now, both of these series are another way to pay tribute to this great generation of men and women.
The Pacific will air its second episode this Sunday on HBO. But, even if you don't have HBO, you can watch the series, at least the first episode on the HBO Website for free. Enjoy and Semper Fi!
March 10th, 2010
"It Was Filmed Here …"
In the spirit of the Oscars last Sunday I thought I would share with you Governors Island's connection to the entertainment world. First, if you are old enough to know who they are, the Smothers Brothers, not the tasty jam, but Tom and Dick, were born here on the island while their father was an Army officer. Neil Adams was born here too. If you don't know his name, you surely know his work. He is best known for helping to create some of the most recognizable DC Comics characters Superman, Batman and Green Arrow.
While going through countless photos in our database I have come upon a handful of television productions on Governors Island. I found pictures of "Law and Order" filming at Fort Jay, and pictures of "Without a Trace" here too. Ken Burns made use the views from Governors Island when he filled two of his documentaries … "Brooklyn Bridge" and "The Statue of Liberty".
A few films have been shot on the island as well. "American Gangster" (2007) used the southern part of the island. Karl Malden filmed "Time Limit" (1957) with Rip Torn, and a little know Jessica Parker flick "Spinning Into Butter" (2007) shot here as well. Spike Lee shot a never used TV pilot, "M.O.N.Y." here with Castle Williams in the background.
Both Castle Williams and Fort Jay have been spotlighted in two Marvel "The Amazing Spider-man" comic books (#615 and #616). They used the great Fort Jay gateway statue in one, and the other makes use of the prison aesthetic inside Castle Williams.
Authors have been here too. Janet Lambert authored the Penny and Tippy Parrish series. They were extremely popular, and focused on the lives of wives and children of Army officers during war (WWII and Korea). She wrote from her experience being married to the Post Commander here. If you are a fan of zombies, check out David Wellington's novel "Monster Island" (2005). In it Governors Island is a safe haven where humans retreat to.
National Parks are often used in films, TV shows, commercials, or other mediums because of their unique attributes. A film company gets a permit, and away they go. Films like "Shutter Island" in Acadia NP, "Into the Wild" filmed in Grand Canyon NP, "Dances with Wolves" in Badlands NP and "The Shining" in Glacier NP, use the scenic backgrounds to tell their stories. Some outdoor clothing and car companies have put National Parks behind their merchandise. Will they sell more cars if they show a happy driver with windswept hair on an open wet road with a beautiful park backdrop? That is for you to decide. It makes sense though that the National Parks would be a film destination. So much of the American landscape has been altered with high rises, cell towers, freeways and power lines. Where else can you go to shoot a period film without resorting to CGI (Computer Generated Images)?
March 1st, 2010
"Statue of Mystery"
Growing up in Florida, I don't really remember seeing that many statues around, except maybe one for Mickey Mouse. We either didn't have them, or I don't remember them. Once I enlisted in the Marine Corps, I did start paying attention because I wanted to see if I recognized the name, and I felt like their name deserved to be read. The first statue I remember wanting to see was the Iwo Jima Statue (U.S. Marine Corps War Memorial) in D.C. While working for the National Park Service in Boston I spent many hours standing in front of the Robert Gould Shaw Memorial, and developed a great appreciation for the men depicted in it, and for Augustus Saint-Gaudens, the sculptor of it.
Statues are always full of symbolism, and I appreciate the creative way sculptors infuse their works with them. On Governors Island National Monument, we have a statue that is shrouded in mystery. The statue is part of the Corps de Garde Drawbridge gateway to Fort Jay. The mystery is that the park doesn't know who carved it, and when it was put there. Theories have varied. One story that is fun to tell is the theory that an Army prisoner, in 1797, who had been convicted of being a Tory spy had carved the beautiful statue. The man, Horton, had been a stonecutter, and the deal was he would carve the statue, and in return be given his freedom. The only problem with the story … it's not true!
The second mystery of the statue has to do with the design. It is a work of art, and one worth visiting our park for all by itself. It is full of symbolism. Some symbolism we know, like the Bald Eagle and its link with strength and power. But other parts of the statue we can only guess their meanings. More searching of primary sources must be done.
I am researching the statue for two reasons. First, I want to create a program for our upcoming Discovery Room. We are going to have different stations, inside Fort Jay, where families and children can participate in hands-on activities. And second, the statue, with its worn down burnt red sandstone edges is an example of the way our new country felt about itself. For me, it is a statue that helps me to feel a part of a lineage to my country.
February 19th, 2010
"Remote … It's all relative"
It is a surreal experience coming from my last park, Mount Rainier NP, where there wasn't even cell phone service, and you had to drive twenty minutes to the local restaurant, and risk food poisoning, to see a baseball game. And, all they watched was the Mariners. For me, living inside Mount Rainier was remote. It might have been the most isolated I have ever felt. And yet, for some other rangers, it wasn't remote enough. While living in Rainier, I became eager for some city culture and socialization. Be careful what you wish for, because I got it … in spades! It is called New York City.
I have to admit, I have felt a little claustrophobic here in New York, but not all the time. In my almost two months of working here for Governors Island National Monument, I have come to discover that sometimes I just forget I am in New York City, home to 8 million people. For two plus hours each weekday, I am surrounded by thousands of commuters on the train and Staten Island Ferry. I jockey for position in the anxious sea of New Yorkers heading to work in Manhattan. The ferry lands at Battery Park, and we are delivered to the start of our new day. However, I feel different from these neighbors. While they dodge people and cabs getting to work, I walk next door to the Battery Maritime Building, and get on another ferry, and in ten minutes I am isolated from the city again.
Just yesterday, I took a walk around Fort Jay with a coworker, and I was reminded of the peaceful feeling here. The city seams a world away. On this day, the beautiful snow covered fields are inhabited only by geese that look at us like we are the ones who don't belong here. In the past, soldiers would have marched over these grounds, and prepared for war. Children of soldiers, "brats", played soccer in the fort's moat, watched polo matches, and earned pocket money setting pins in the bowling alley. Today, the only sound is from the howling wind, and the American flag's grommets hitting the flagpole. Each day on the island I almost feel like I am in a peaceful dream, and the only time I awaken is when a sightseeing helicopter flies overhead or the Staten Island Ferry announces its departure with a deep horn. Remember, you too can experience the remote feeling of Governors Island on June 5th when the island opens.
February 16th, 2010
Before starting work on Governors Island NM I knew I would be excited to explore the two hundred year old forts, but I didn't foresee how interesting it would be to learn about the people involved with the island to which there are many.
I have been reading about Major General Winfield Scott Hancock, who had quite an impressive resume up until his death in 1886. He went from Pennsylvania boy to a presidential candidate. Like many successful generals, Hancock began his soldiering career at West Point graduating somewhere in the middle of the pack. He first made a name for himself in the Mexican War fighting gallantly, and getting wounded in the knee. Between the Mexican War and the Civil War, Hancock served on posts in Minnesota and Missouri, and even in Fort Meyers, Florida. I am from Florida, and I thought Fort Meyers only connection to my life was that it is the home of my favorite baseball team, the Boston Red Sox. Now I come to find out that it is called Fort Meyers because it actually was a fort. Seems silly, but I never put the two together. Did they not teach this or was I not listening? … Probably the latter.
By the time the Civil War began, Hancock had become a brigadier general, a one-star general, and on the side of the union. After the Battle of Williamsburg, Maj. Gen McClellan reported via telegraph to Washington D.C. that "Hancock was superb today," and the label stuck as he was often referred to as "Hancock the Superb." That is almost as good as what I am referred to, "Erin the Great." Well, only my mom calls me that on occasion. Gen. Hancock most famously served in the Battle of Gettysburg making tough decisions for the good of the Union Army. By the end of the war, he had been promoted to Maj. General, and was tasked to oversee the execution of the co-conspirators from President Lincoln's assassination.
During a tour out west in 1870, Gen. Hancock, had a small hand in the future creation of our first National Park, by ordering a military security for an exploration of the area of Yellowstone, and get the southern boundary named after him, Mount Hancock.
In 1872, Gen. Hancock takes command of the Military Division of the Atlantic and Department of the East on Governors Island. He upgraded the island by bringing comforts like city water, exterior lighting and free ferry service. An officers' club was created by moving the band to the barracks in Fort Columbus, now Fort Jay. He also started a military museum, and other moral building changes on the post. And, as if he wasn't busy enough, he was the democratic nominee for president in 1880. When the election votes were counted, Gen. Hancock lost to Garfield by the closest popular vote in history. Just 10,000 votes separated him from being president of the United States. He also found time to be president of the National Rifle Association in 1881, and remained a commander on Governors Island until his death on February 14th, 1886.
General Winfield Scott Hancock is just one of the interesting people who served the United States from Governors Island.
February 5, 2010
What's in a Name?
How did Fort Jay and Castle Williams get their names, and how can I get my name, Whittaker, on something?
Some amazing places can be seen in our National Parks, and I have worked at some of these places. At Grand Canyon NP, I had the privilege of seeing many breathtaking views from places like Plateau Point, overlooking the Colorado River from an Empire State Building's height above. The hike down the South Kaibab Trail brings you through amazing views with great names … Ooh Aah Point, Cedar Ridge, and Skeleton Point before heading down to Phantom Ranch. In the Marine Corps I was referred to as Whitt, and while working at Grand Canyon, I thought it would be cool to have a place named "Whitt's End." So, when somebody asked you where you hiked to today, you could respond, "At Whitt's End." How great would that be?
Some points and places are named after people, some worthy and some maybe not. A good example of this is Mount Rainier NP, where I worked last summer. A British naval explorer goes and names the mountain after his good naval buddy, Rainier, who never saw it himself, and then goes on to fight in the Revolutionary War against the colonists. Some of my co-rangers felt that no human's name deserved ownership over such an awesome, majestic natural place. Many Washingtonians have argued, even petitioned, for its name to be returned to Tahoma.
One of my favorite all-time NPS tours to give was the Black Heritage Trail tour for Boston African American National Historical Site. It is a little known park, and a lesser known history, but wow, what a most inspirational tour to give. The tour ends at the Abiel Smith School, the first black public school in the country. It was named after a donor to the cause, and built in 1835.
Here at Governors Island NM we have some good names. Castle Williams, yes we have a castle, is named after its architect, Jonathan Williams, and Castle Williams is important because it is the first American engineered military structure. Fort Jay, built in 1809, is named after John Jay, a Founding Father. Is that what it would take for me to get my name on a fort? Well, for some, it wasn't. After having his name on an unpopular treaty (the Jay Treaty), Fort Jay became Fort Columbus. So, maybe discovering a new world is what it would take. No problem? But, Fort Jay got its name back in 1904. My favorite name here at Governors Island isn't a person's name, but Buttermilk Channel which separates our island from Brooklyn. Walt Whitman wrote about "(when) cattle were driven across from Brooklyn, over what is now Buttermilk Channel, to Governors Island." This happened when it was cold enough to freeze. But, the waters in the channel are also turbulent, and the rumor goes that by the time you got your milk across it would have turned to buttermilk. So, to answer the question, what's in a name? Well, a lot. It sounds cheesy, but the fun really is learning the story behind the answer.
February 1st, 2010
From 1994 to 1998 I served proudly in the United States Marine Corps, so I can certainly relate to Governors Island, and the military community that once served here. But, I can't say I am not a little disappointed with the island … sadly, no Marines were stationed here to talk about. But, one recent topic I have discovered while researching has gotten me intrigued, and that is early airpower. Governors Island has a major place in the history of U.S. air power.
Before enlisting in the Marine Corps, I wanted to become a pilot like my grandfather, so I joined Air Force R.O.T.C. at the University of Florida. I learned names like the Wright brothers, Glenn Curtiss, Henry "Hap" Arnold, Billy Mitchell, and my favorite, Jimmy Doolittle. Now, while reading through stacks of historical books and papers, I welcome these names again. With the buzz of flight reaching every corner of America, Gen. Leonard Wood made an airfield on the new portion of Governors Island, created from subway landfill. The new metropolitan airfield became "a staging ground for some pioneering feats of air travel." In 1909, Wilbur Wright came to Governors Island with the plan to make history, and he did. On Sep. 29th, 1909, signal flags, which had been placed around New York City, waved to let the public know of the exact moment so they could witness history, and Wilbur Wright lifted his plane off Governors Island, and flew around the Statue of Liberty. This is considered America's first flight over water. Five days later, on Oct. 4th, Wright again took off from the island, but this time flew north to Grant's Tomb, in upper Manhattan, also a national park. I felt like a spectator when I read the New York Times article from one hundred years ago.
Not long after, then Lt. Hap Arnold was stationed on the island, and then became one of first two men to complete flight school for the military. Arnold is considered the father of the Air Force. Jimmy Doolittle is my all-time hero, and my favorite biography. I haven't found a link yet of him having been on Governors Island, but give me time. I will keep looking.
My career in the Air Force didn't happen, but I'd like to think if I did commit to it, I might have been a part of those women in the 1990's who paved the way for women military pilots, like the WAC's did during WWII, who also had their place in our history on Governors Island.
January 22, 2010
It is an exciting day today for two reasons. First, it's Friday, and second, I gave my very first interpretive program today. This morning, we provided volunteer training for three new research volunteers. I was asked to give an interpretive talk on Fort Jay, and I presented it to three new volunteers and three park rangers. It is always an anxious time leading up to test driving a new program, but there it is a great feeling to have it out of the way.
Governors Island NM is lucky to have such a diverse field of topics to choose from. Fort Jay is just one of them, and it is part of the island's overall theme … how the forts on Governors Island served their country in the early stages of American coastal defense, and evolved with the times to meet the operational needs of an ever changing army.
A new United States of America saw a need to defend its most important harbors with a First American System of Coastal Fortifications. French architect, Charles Vincent, designed Fort Jay and Governor George Clinton called on organizations and citizens to help build it. On May 24th, 1794, an observer reported, "As I was getting up in the morning, I heard drums beating and fifes playing. I ran to the window, and saw a large body of people on the other side of the Governor's House, with flags flying, and marching two and two towards the water-side … a procession of young tradesmen going in boats to Governor's Island, to give the state a day's work." I love the sense of stewardship and patriotism displayed here.
As a First System, Fort Jay was an unreinforced earthwork, but by 1801, it was a square structure lined with some masonry, and had four arrowhead-shaped bastions on each corner. Inside the fort housed an early barracks for fifty soldiers. In 1806, America, still feeling fear of foreign attackers, set about a Second System of Coastal Fortification, and was reinforced with masonry construction. The re-designed Fort Jay now had space for 100 cannon, a connected ravelin, and brick barracks for 230 soldiers. Now the fort was in a pentagonal shape allowing cannons to cover the confluence of the East and Hudson Rivers. The Second System was finished in Jan. 2010. Happy Anniversary Fort Jay! Again, Fort Jay received another facelift and received granite walls and a glacis, a field of grass leading up to the fort's dry moat, which provided extra protection for the fort.
Even though the fort was armed and staffed during the Civil War, it was now essentially out of date, as a last means of defense. By 1863, its primary duty was to hold confederate officers as prisoners along with enlisted Union soldiers. Between 1878 and 1921 the fort housed soldiers, an army music and bandmaster school, and in the 1930's, Fort Jay's purpose changed one more time … the barracks were remodeled to house junior Army officers and their families. As a veteran of the Marine Corps I can relate to Fort Jay's history. I was trained to do one job, but found myself being assigned many different assignments. Fort Jay's flexibility kept it around for us to enjoy today.
January 20, 2010
This first three weeks have been jammed packed with training, but now we are getting into the real meat and potatoes of the winter … projects. It is the reason we were hired. There are 392 National Parks in the United States and Governors Island National Monument is a younger park. Unlike Grand Canyon NP and others, we are still creating and testing ideas, and finding our groove. As a seasonal ranger it is really exciting to be a part of this process. In the next few months we will create podcasts, new summer programming, update our junior ranger book, long-range program planning, more kids programming, and more. It is an ambitious schedule, and Brent and I are up to the challenge. Remember, the island opens to the public on June 5th!
January 14th, 2010
Hello everyone. I would like to welcome you to the Governors Island National Monument blog. I think, like many people, I didn't know about Governors Island. Being from Northern Florida, I have an excuse. I first noticed the island riding on the Staten Island Ferry while visiting NYC in 2005. My mom told me it had been a military post, and I was instantly intrigued since I too was in the military … how odd that I am working here four years later.
Governors Island National Monument, part of the National Park Service, has 22 acres on the island. It was created in 2003 to preserve the two historic military structures on the island, Castle Williams and Fort Jay, and explore the island's rich ecological and cultural history. Both the U.S. Army and the Coast Guard protected New York harbor for over 200 years.
The National Park Service isn't alone on the island. An organization called GIPEC, Governors Island Preservation & Education Corporation, is in charge of preserving, maintaining and redeveloping 150 acres of the island. With GIPEC, we are doing amazing work by helping the island become a recreational and cultural center in New York harbor while preserving its historic past.
I am so excited for this island. This year, Governors Island officially opens to the public on June 5th. The ferry is FREE so there is no excuse not to come. The park will host ranger led programs and other great events this summer. With this blog I hope to give you the opportunity to learn about this island's incredible past, it's 2010 summer events, and how the future will shape it. You can also follow us on Twitter and Flickr.
Last updated: February 26, 2015