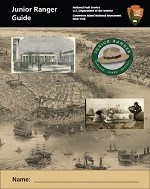 Earn your Junior Park Ranger Badge today!
Do you want to explore Governors Island National Monument, learn about its history and find out how you can protect the island so that kids like you can enjoy it for years to come? Then the Governors Island Junior Ranger program is for you!
Pick up a junior ranger booklet in the bookstore on Governors Island, or print from the link provided below. Complete the activities and attend programs on the island to earn your official Governors Island National Monument Junior Ranger Badge!
If you spot a Ranger, don't be shy to ask him/her kindly for help with completing the booklet.
Good luck!