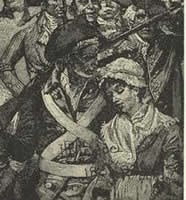 Women have always played an important role in war, and not just on the home front.
During the Revolutionary War, for example, some women applied their homemaking skills to reconnaissance work.On both the American and British sides, housewives and young girls were enlisted as maids and cooks for the military. Because they had access to military camps, they could eavesdrop on private conversations concerning anything from equipment deliveries to leadership transfers, and deliver that information to the other side. One spy whose role was only recently discovered is known only as "355." She was a part of a spy ring called Culper, and she delivered accurate information to
George Washington, helped expose Benedict Arnold, and aided in the arrest of Major John André, head of England's Intelligence Operations in New York.