William Bandura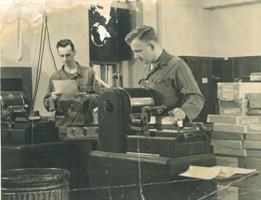 William Bandura
Private First Class at Fort Jay, 1949-1952
"Bill" Bandura served in the U.S. Army at the post on Governors Island known as Fort Jay during the Korean War, from 1949 until 1952. Bill worked in the Publication Office and had Top Secret clearance. He would figure out the printing and distribution of military orders. Bill remembers the day to day duties on the island, often working from 8:00am to 5:00pm.
He recalled one occasion that he was assigned guard duty at Castle Williams. Being a Sunday morning, he remembers marching the prisoners to church. But Bill did not only have traditional military duties on Governors Island. One day, he helped fill in for two young women working at the snack bar of the YMCA.
Bill's story has given us a glimpse into what daily life was like for soldiers at Fort Jay. However Bill has also generously donated paperwork and photographs from his time at the military post. Included in this collection is the receipt that Bill received for the $3.00 he was compensated for his one day of work at the YMCA at Fort Jay. Also among the papers are news bulletins handed out daily at the army post and a letter of recommendation written for him by the Chief of the Publications Supply and Reproduction Branch. In it, the chief wrote about Bill, "His honesty and loyalty are beyond question and he had contributed much to the improvement and efficiency of the printing plant." Bill's recollections and memories and his collection of paperwork and photos will greatly help the National Park Service in its mission to conserve the military history here at Governors Island National Monument.
Last updated: February 26, 2015