Guided Tours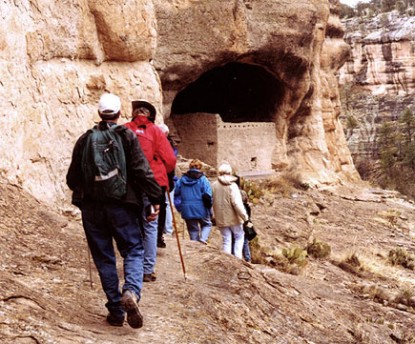 Visitors are free to tour the cliff dwellings on their own anytime during park hours. An informational brochure, the Cliff Dweller Companion is available free of charge. Visitor hours at the cliff dwellings are 9 am to 5 PM Mountain Time year-round.
After Labor Day weekend, 2016, there are no scheduled tours for the winter season. Guided tours through the Gila Cliff Dwellings may be possible upon request, depending on staff availability.
Please note that the tour begins at the cliff dwellings, approximately one-half mile from the Gila Cliff Dwellings trailhead. Give yourself time to hike up the trail and be at the program on time.
Other tours, programs, and special events may be offered depending upon staff availability. Check the website calendar, visit the official Facebook page and calendar, or call the Gila Visitor Center at 575-536-9461 for the latest information.